2022-06-17
Greek restaurant Phnom Penh - How is mythical Greek cuisine known?
Greek cuisine, though unique, intersects with the culinary arts of the Balkans, Italy, and France. The Greek people have learned to create their own unique notes of flavor in all the dishes they cook, and the natural beauty of the local nature promotes the creation of only natural and healthy dishes strong. That's why it's worth learning this side of Greece more closely and grabbing a few recipes to keep in mind. Greek cuisine today has developed in many regions of the world, which is reflected in the appearance of many Greek restaurants in Phnom Penh. So what characteristics do those restaurants have and how do they operate? Let's find out with Luxcity in today's article.
Learn more: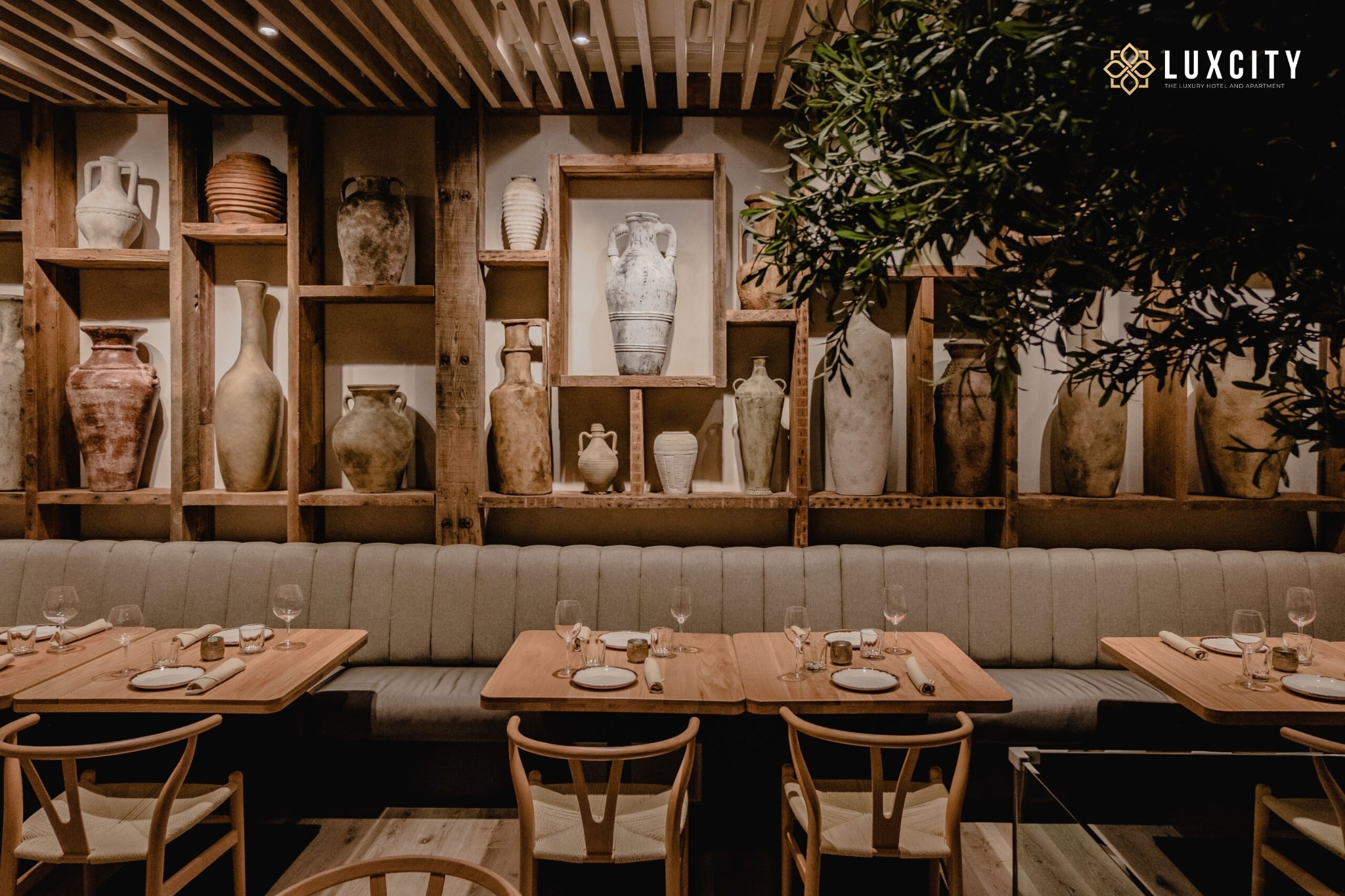 Tradition and History of Greek Cuisine
Many national Greek dishes contain olive oil: they are fried on it, salads are marinated with them, and marinades are created on their basis. The abundant availability of this product is due to two factors: territory and history. The fact is that even the ancient Greeks offered oil from the fruit of the olive tree, which in this country always had a lot. Over time, the tradition has not lost its degree and is relevant today.
Another advantage of the Greeks is gourmet cheeses. It was they who created the world-famous Feta cheese and included it in the composition of their signature "Greek" salad. In addition to him, culinary professionals have about 50 varieties of these dairy products in their arsenal. In general, the Greeks occupy a leading position in the ranking of cheese consumption. About 25 kg of this product falls on one person, which should not come as a surprise.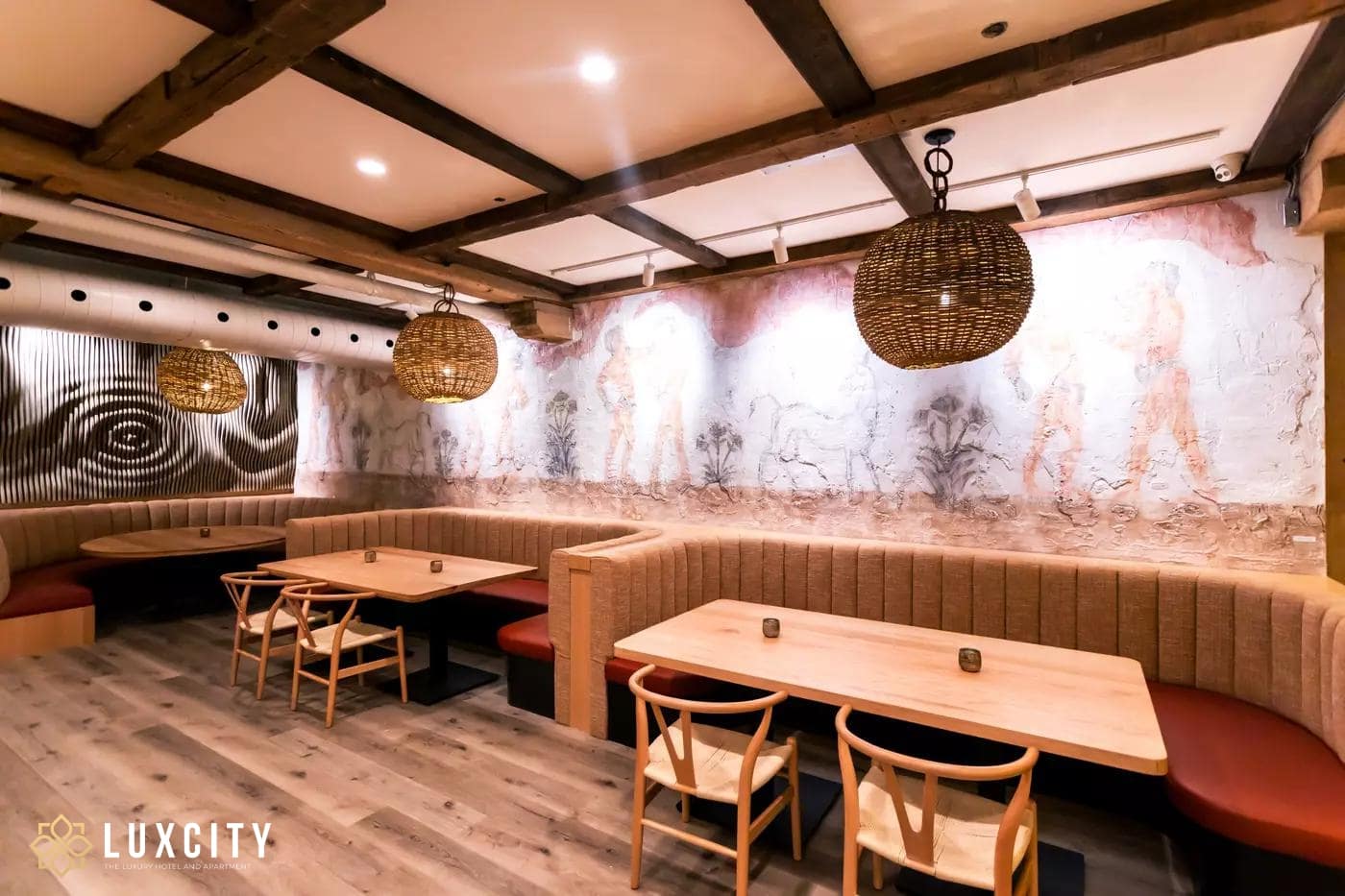 The most commonly used vegetables in Greece are eggplant, onions, tomatoes, okra, potatoes, green beans, and pepper. Also, the Greeks are big fans of all sorts of spices, herbs, and spices.
Features of Greek cuisine
Greece not only has mysterious myths and legends but is also a beautiful country with delicious and nutritious food. Therefore, Greek cuisine has long left a strong impression on tourists from all over the world.
In addition to the famous traditional specialties, the cuisine of the Greeks also has the interference and mixed with the cooking of the people of European countries such as France, Italy, and even countries in the Middle East. This exchange has brought a new wind in the way of preparing dishes as well as spices, and culinary knowledge of Greece.
It can be said that the Greeks are masters in using unprocessed unsaturated fats such as olive oil and honey sugar... in everyday dishes. Today, nutritionists confirm and praise this achievement.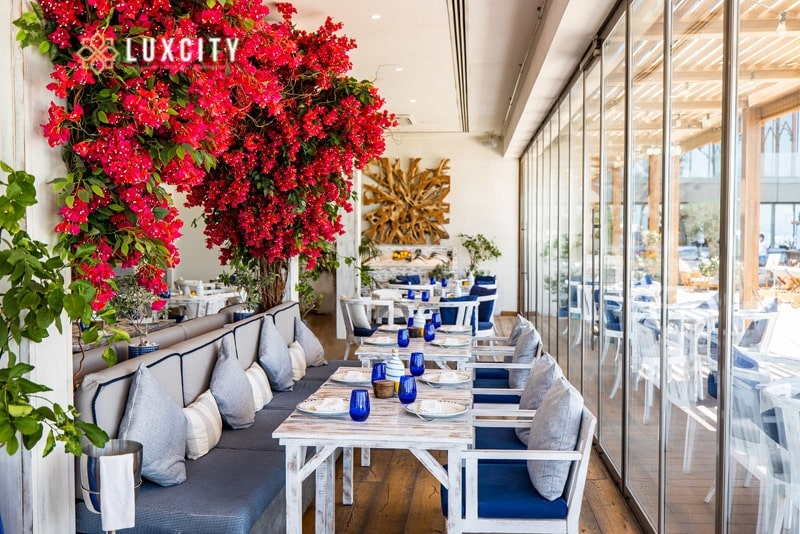 Another unique feature is that Greek cuisine often places a lot of emphasis on grilled dishes. More specifically, most of the traditional dishes of this country are relatively simple. Daily dishes often use fewer sauces and spices but focus on using more herbs.
Typical delicious dishes of Greek restaurants in Phnom Penh
Souvlaki, delicious Mediterranean barbecue
Of course, we cannot ignore Greek cuisine, Souvlaki- a grilled meat dish with an irresistible aroma. Ingredients of Greek Souvlaki include pork or chicken, one piece of lean fat, one piece of fat, and one piece of chess piece, grilled on a skewer over blazing coals when eaten sandwiched in pita bread (flat loaf) with pickled vegetables.
If you don't want to eat Souvlaki with flatbread, you can skew the meat with vegetables before baking, then dip it with tzatziki made from yogurt, pureed cucumber, and garlic juice.
Forget about cholesterol when you are eating this dish, just enjoy the passion for food and then return to exercise later.
Horiatiki Salad, a special dish of Greek cuisine
Greeks often use salad as an appetizer to stimulate the appetite of diners. And Horiatiki Salad is one of the most popular Greek appetizers chosen by diners whenever they have the opportunity to come here.
It can be said that Salad Horiatiki is the perfect harmony of flavors of bright red tomatoes, cool green cucumbers, spicy shallots, and cool olives. They are then seasoned with salt, pepper, oregano, extra virgin Greek olive oil, and a large piece of cream cheese on top.
Honey yogurt, the "national drug" dessert of Greece
Honey yogurt is a famous dessert in Greek cuisine. Many tourists who come here admit that they love the specialty of this country with thousands of years of history.
Yogurt in Greece is unsweetened, made from unprocessed whole sheep's milk. When you eat it, you will find it thick and sticky like ice cream, when eaten with honey, it is delicious.
Loukoumades, a specialty that dates back to ancient Greece
Honey is obtained from the Mediterranean forests, which is a specialty of Greece. Therefore, there are many other desserts made from honey besides the famous honey yogurt, typically Loukoumades from ancient Greece.
This unique Greek dish was once given to athletes who won competitions several thousand years ago. The cake is very simple to make. Just deep fry in olive oil until the cake turns golden brown, then take it out and dip it in boiling honey and you're done. It's that simple, but delicious to eat!
Frappe, traditional Greek coffee
Greece is famous for its Mediterranean heat which makes people just want to find coffee. And Frappe, the typical iced coffee of Greek cuisine, is a drink suitable for this type of climate.
Needless to say, all over this famous country, from the crowded capital of Athens to the deserted islands with beautiful calm blue-and-white buildings, cafes are serving Frappe everywhere.
How to make Greek Frappe is quite simple. You just need to have Nescafe, filtered water, ice, and sugar, put in a strong cocktail mix and you have this pleasant drink full of fragrant and cool bubbles.
Saganaki is the perfect appetizer for cheese lovers
Another famous appetizer of Greek cuisine is Saganaki. To prepare this dish, people will use Kasseri or Gruyere cheese. Then, fry the cheese on a low flame to get a crispy crust like we usually eat.
Just take a bite of Saganaki, the cheese inside melts into a fatty, smoky leopard. If Vietnamese cheese sticks are dipped in chili sauce, Greek Saganaki cheese has to be sprinkled with a little lemon juice on top to be in tune.
Taramosalata
Taramosalata is considered the most famous appetizer in Greece. Not only is this popular with adults, but it is also a "favorite" dish of Greek children. Taramosalata is made from fish eggs, so it is rich in protein and omega-3 - nutrients that are especially good for the brain. Like other delicacies of Greek cuisine, Taramosalata is often eaten with olive oil, potatoes, or fragrant loaves of bread.
Keftedes
Made with the main ingredients of minced pork, veal, or lamb and mixed with finely ground onions with bread combined with egg yolk, the famous Keftedes dish of the mythical land is The dish is popular with tourists from all over the world when traveling to Greece. This delicious mixture will be placed in the refrigerator until hardened, then molded into a round shape, breaded, and fried in olive oil.
Moussaka
If given a choice to choose the most famous dish that represents Greek cuisine, many people will not hesitate to call the name Moussaka. With high requirements for ingredients and elaborate processing, this dish is always on the list of must-try dishes of tourists when coming to the country located on the Mediterranean coast.
The main ingredients that make up Moussaka are minced meat, potatoes, and eggplant. They are fried and then placed in a baking pan and covered with a sauce called Béchamel (made from butter, milk, flour, and cheese). The final step is to bake for a long time in the oven for a beautiful golden brown Greek delicacy.
Spanakopita cake
The Greeks have a special love for baked goods. Spanakopita is one of the cakes rooted in that creativity and love. Layers of pie crusts stacked like paper-thin layers will help you have a delicious dinner, especially when combined with spinach and feta cheese.
Tiropita cake
Tiropita cake, like other cakes with the presence of cheese, is an unforgettable delicacy of Greek cuisine, especially for diners who have fallen in love with cheese. Although it has a similar Tiropita crust to Spanakopita, this dish is stuffed with salty cheese that is both greasy and melts when baked.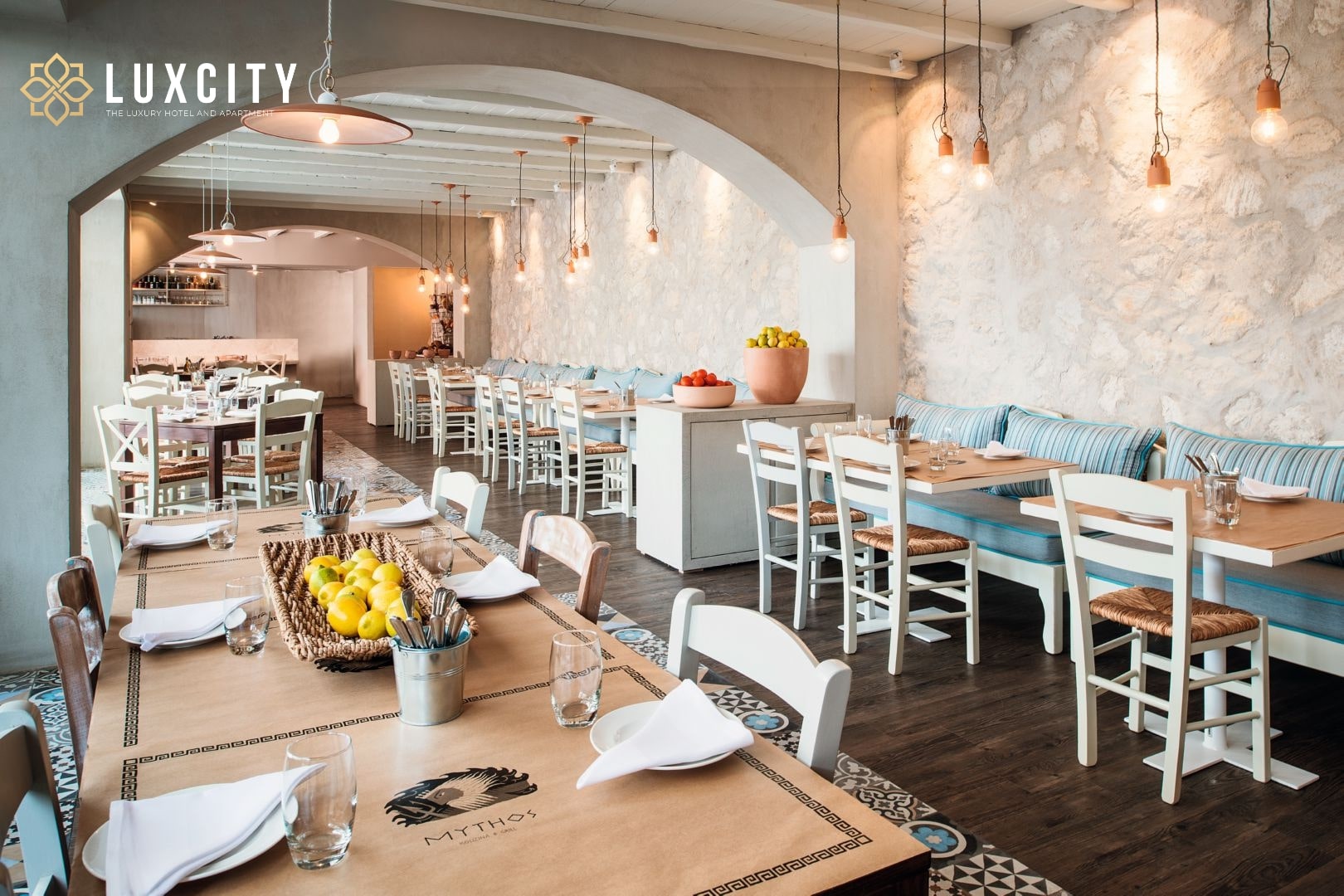 Gemista
In Greek cuisine, the Gemista dish has a very free way of processing, not being constrained by a certain recipe, so it is chosen often because it does not cause nausea. The Greeks often used bell peppers that had been removed and stuffed with familiar ingredients such as rice, meat, herbs, and onions.
Gemista is prepared by the Greeks by using bell peppers that have been removed and stuffed with rice, meat, and spices.
With this method of processing, you can choose to multiply with any available ingredients, or according to your preferences, without having to follow any rules. This is the great advantage of this dish - this Greek specialty.
Spoon candy
Spoon candy is a snack made from fresh fruit. The Greeks made this particular dish to preserve the fruit in its best state. This can be considered a fruit jam of Western Europe. Because of its sweetness, spoon candy is often enjoyed with other low-sugar drinks such as tea or unsweetened yogurt.
Spoon candy is often enjoyed by the Greeks with tea or unsweetened yogurt.
Greek Yogurt
Greek yogurt has become famous and popular all over the world. Because of its health benefits and delicious taste, this dish is popular with tourists from far and wide when traveling to Greece.
The yogurt here is denser and more creamy than other regular yogurts. One of the main reasons is that it is made from goat's milk. This famous dessert associated with Greece has become a favorite food in many countries. But in Greece alone, yogurt is often served with black cherry jam - made from ripe cherries distilled with honey.
Visitors to Greece can enjoy the best yogurt at the Freshko Yogurt Bar in Athens. This is a trusted and must-have culinary destination for being at the forefront of trends in serving diners various desserts made from Greek yogurt.
Besides, you can also choose from many toppings served with yogurts such as jams, honey, or chopped fresh fruit dishes. Chocolate with walnuts is also a good choice to accompany this delicious dish.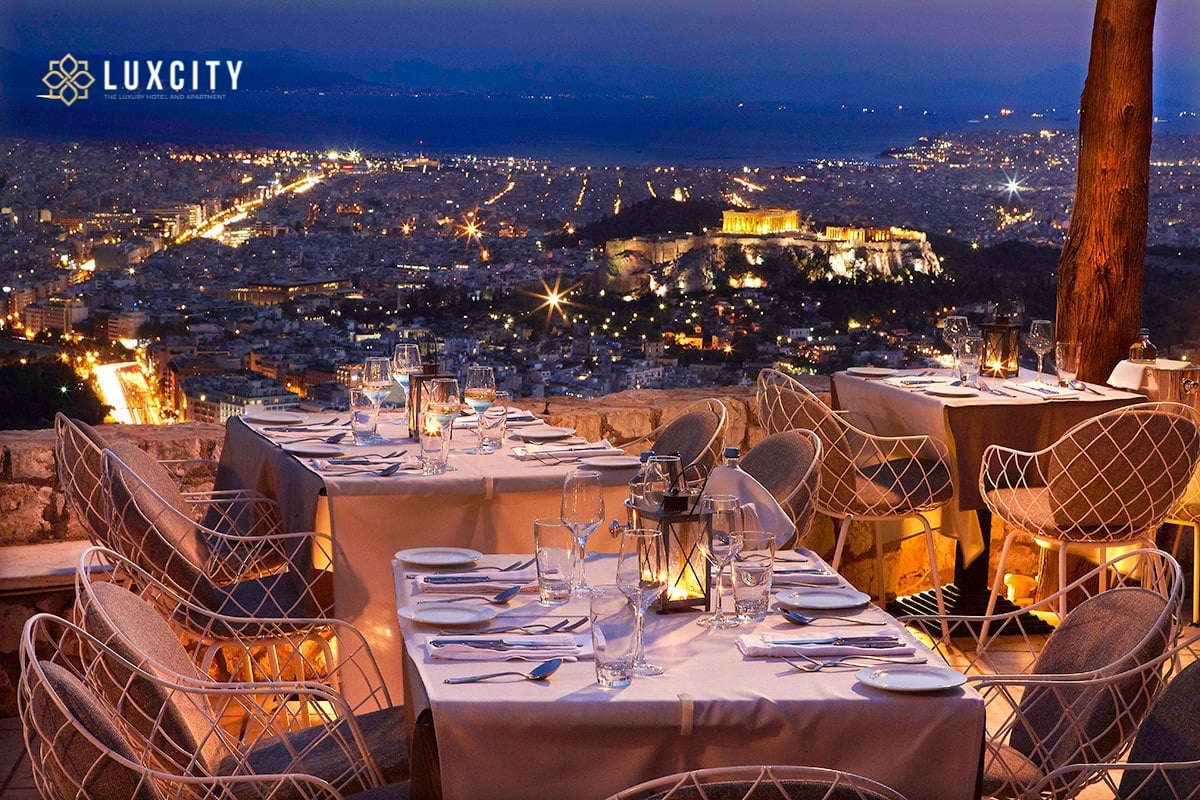 After reading this article, you must have a good understanding of Greek cultural cuisine and the characteristics and operating methods of restaurants in Phnom Penh, right? Hope you can come to these restaurants and enjoy the delicious food coming from this beautiful land. We also hope this is a useful article for your vacation trip when you come to Phnom Penh and want to eat Greek food. If you have any questions, please message Luxcity for answers.
Read more travel articles in Cambodia and inspiration from Luxcity.com.