2022-05-04
What is president hotel? How can we choose a good President Hotel Phnom Penh?
The hotel classifies into many room types based on quality to meet all the needs of customers. In Phnom Penh, there are many 4-5 star hotels, including high-class, well-invested president hotels. However, this concept is still quite strange to many other customers when they first set foot in this capital. So today's article, Luxcity Hotel will help you find out what the President Hotel is and how to choose the President Hotel in Phnom Penh for the best experience. Let's follow along!
Learn more: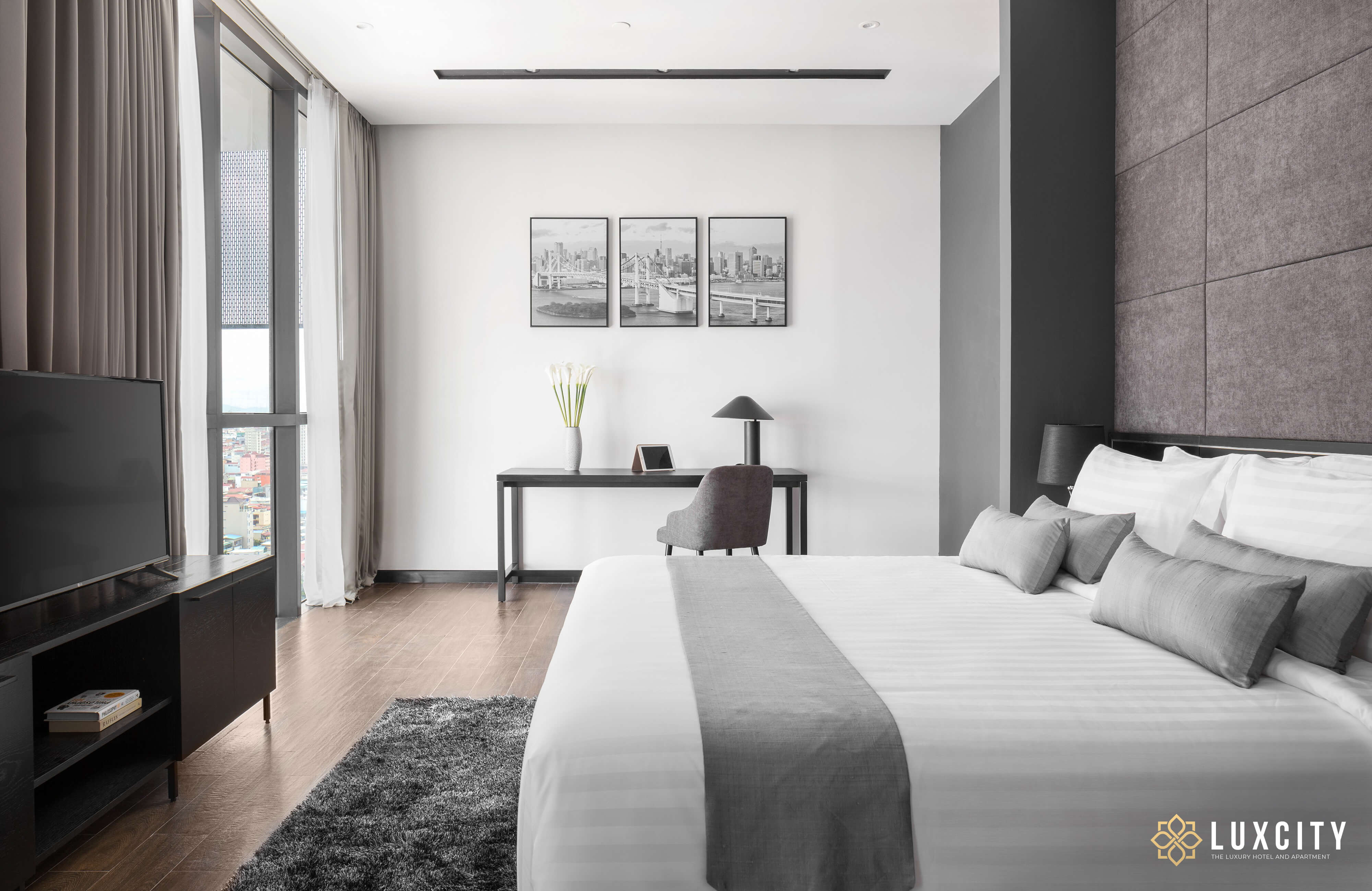 What is the President Hotel?
President Hotel is also known as the Presidential Room. This is a special type of suite, the most luxurious in hotels and resorts. This type of room is often designed as a particularly luxurious resort, exclusively for heads of state or people of high social status, always having to ensure strict requirements with the highest standards.
Features of President Hotel Phnom Penh
Phnom Penh has many hotels and resorts. However, not all resorts can fulfill the president hotel's high design specifications. This sort of room is on the top floor, with ample space, fresh air, and breathtaking views, plus special equipment and services.
The president hotel Phnom Penh's rooms' architecture makes them high-class. Each president's hotel room must include a living area, separate bedrooms, windows, and balconies to see the sunset or sunrise.
Depending on the level of luxury, each president's hotel room is 60 - 120 m2 and features a living room, bedroom, bathroom, and private pool. Each space's decor ensures a distinct look and harmonizes the overall design.
In addition, President Hotel in Phnom Penh also includes rooms such as:
Living room
The living room area of ​​the Present Hotel will give guests the best view of the landscape outside. The room is equipped with a sofa set, television, speakers, minibar, a desk with full table lamps, papers, pens, etc... And maybe even a piano.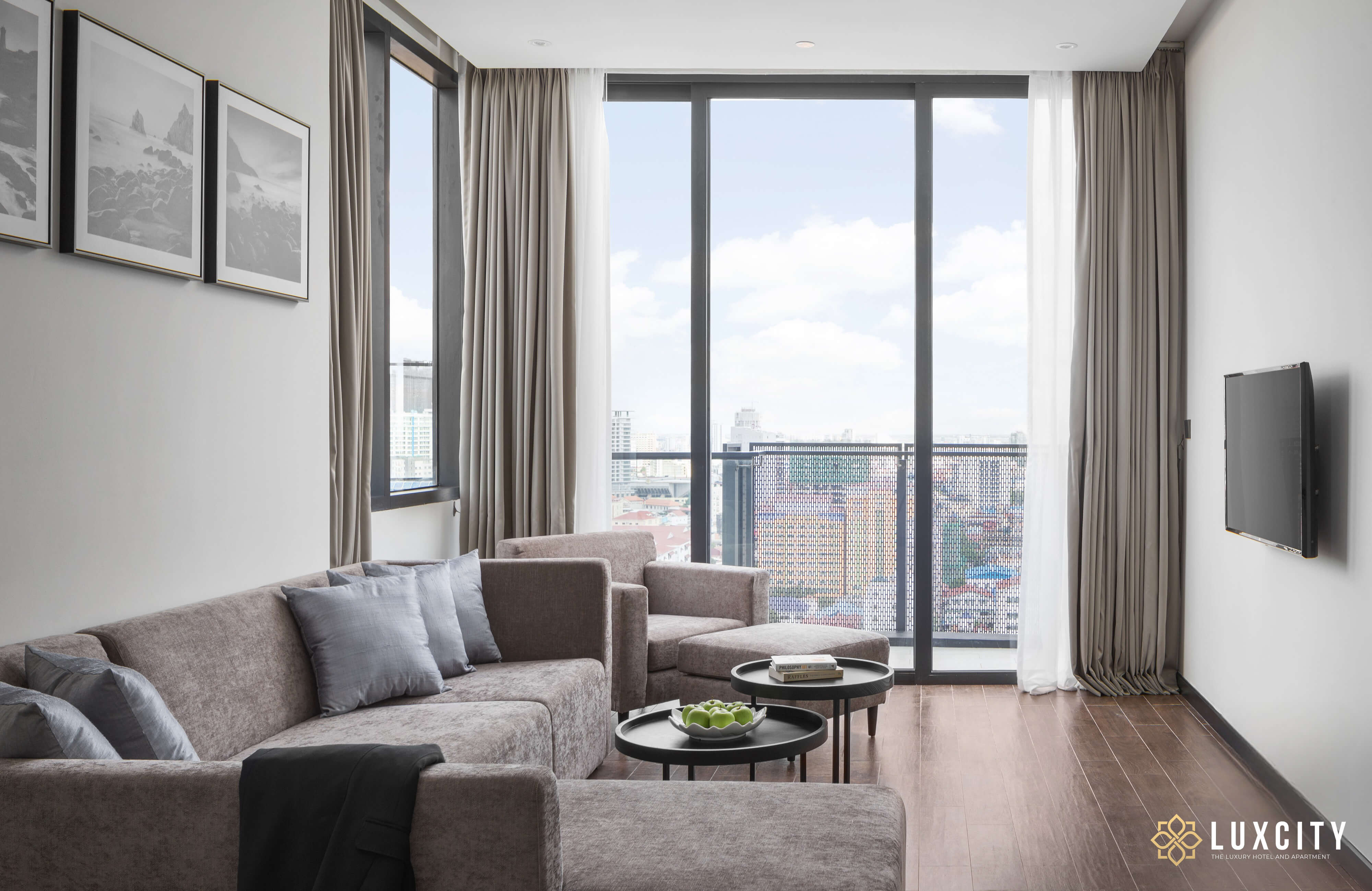 Bedroom
To give guests the best experience and the most relaxing rest, all fabrics such as blankets, sheets, pillows, and cushions... in the President hotel are made of high-quality materials. Beds have large sizes, mainly king size beds.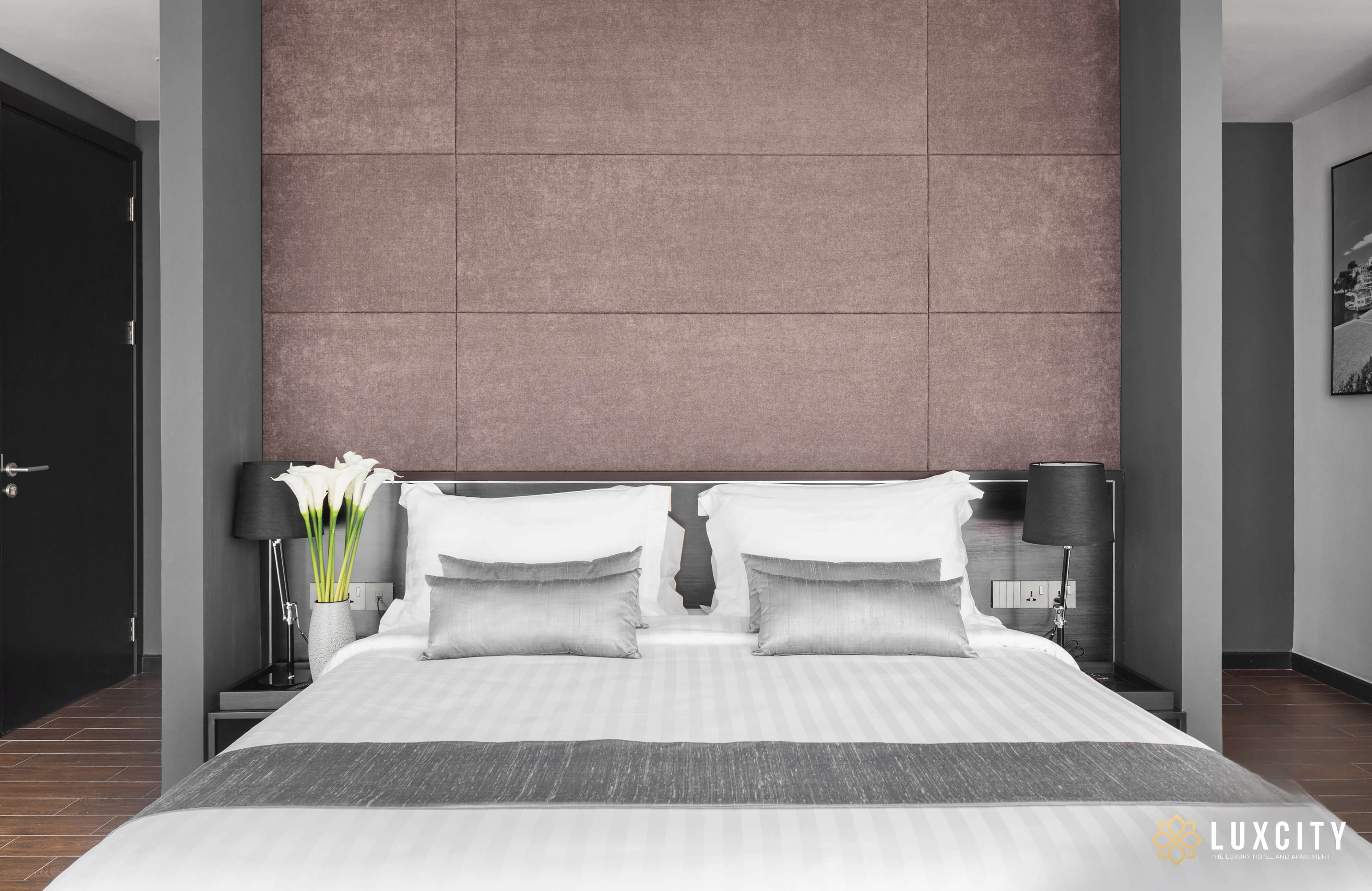 Bathroom
Most of the bathrooms in the president are designed with a standing shower, a bathtub, and a beautiful view. The floor surface will be paved with anti-slip stone, under the standing shower with small pebbles to massage the feet of guests. The amenities are also very high-class and in addition, there is special equipment such as a minibar, phone, music player…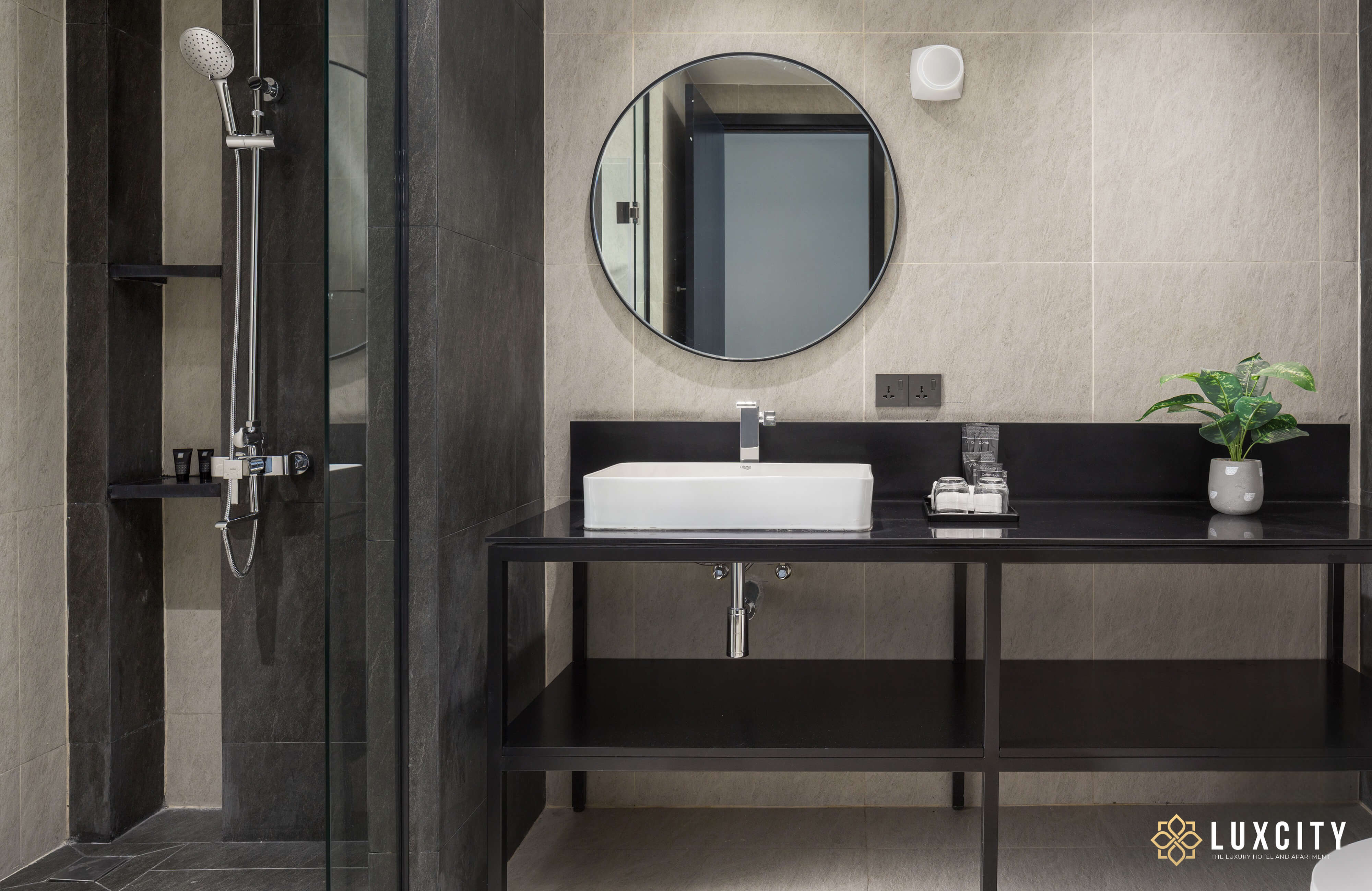 In addition, the President's room also has a library and an entertainment room.
President hotel Phnom Penh types are popular today
To increase the VIP level, the Suite room class is divided into the following 4 types:
Junior Suite
This is a basic VIP room type, room service quality is higher than that of a Deluxe room (Deluxe Classic | Deluxe Premium). Junior Suite usually has 1 bedroom + 1 living room – suitable for newlyweds or small families.
Family Suite
The area is quite large, the space is comfortable – because there are 2 large beds; it is very suitable for a family of 4 or a group of close friends to go on vacation together.
Senior Suite (also known as King Suite)
Usually has a larger area than Family Suite. In addition to the living room and bedroom, the Senior Suite also has other functional areas: kitchen, dining room, beautiful balcony...
Executive Suite
The most expensive room type in the hotel. Usually, each 5-star hotel will only have 1 Executive Suite room, and name it: President Suite or Royal Suite… Because of the largest area, the room design is not only a living room, 2-3 bedrooms but also There are meeting rooms, entertainment rooms, libraries, etc. In particular, many hotels that own President Suite rooms also have bulletproof glass around them to ensure absolute safety for politicians staying inside.
The standards of the president's room in Phnom Penh
Why is the president hotel expensive and only dedicated to serving people with high status in society? Let's explore the impressive space inside this special room to understand better.
About the position of the president room
The room is located in the most beautiful location at the hotel or resort. With the highest position and the airiest. In addition, here customers will fully enjoy the most impressive natural atmosphere.
President room is also designed with an area from 100 to 500m2 with one to several bedrooms and other function rooms to bring the most comfort to VIP customers.
About the function in the president's hotel
To meet the needs of VIP customers, at the president hotel space is always arranged 1 living room, 1 separate bedroom, a window, and a balcony with a beautiful view overlooking the sea, forest, and lake landscape, mountains, or cities... to watch the sunset or sunrise.
In addition, depending on the space and class of the room, the president hotels can also be arranged with other special function rooms such as swimming pools, meeting rooms, gyms, saunas, etc.
Interior design in president hotel
Depending on the general design style of the hotel, the president's hotel spaces will have separate imprints with modern, classic, or neoclassical colors… However, the common point in interior design is luxury, and modernity, ensuring harmony and harmony with interior materials imported from abroad such as Italy, France, Germany, etc... Therefore, it will bring customers the most comfort and relaxation when staying here.
Utilities inside the room
To bring to customers convenience and comfort, all spaces of the president hotel in Phnom Penh are fully equipped with the most modern equipment such as televisions, air conditioners, beautiful sound, light systems, and wifi connection… along with a work desk and minibar.
Besides, the bedroom with a king-size double bed must meet the standard size of 1.6 x 2.2m or 1.8 x 2.2m with items such as cushions, pillows, bedsheets... must also meet strict quality standards.
The bathroom also needs to be beautifully designed with an impressive view, modern equipment, and effective anti-slip,... Meeting rooms or other function rooms are arranged in a harmonious and modern manner, meeting the needs of customers use.
Special add-ons included
At many high-class hotels today, the service of president hotel Phnom Penh also includes many other utilities such as butler service, security guard, separate elevator, 24/24 shuttle service, and food service.
Luxcity Hotel & Apartment - One of the best President Hotels in Phnom Penh
Luxcity Hotel & Apartment is one of the best President Hotel in Phnom Penh, located in the heart of this vast capital of Cambodia. Around the geographical location of this hotel, there are all the necessary services such as restaurants, cafes, and cafes for guests to comfortably enjoy their travel. In addition, from the hotel, it only takes a few minutes to move to different, famous places in Phnom Penh. This is truly an ideal resort for tourists and their families and friends.
Luxcity is designed in modern and luxurious architecture, extremely suitable for presidents and senior officials. If you look at Luxcity from afar, this place is nothing like a magnificent and magnificent castle. In addition to taking care of the outside appearance of the hotel, we also focus on the interior design of the hotel. This makes guests feel more luxurious, modern, and comfortable when entering the hotel. High-ranking guests when coming to Luxcity can both work because there are high-class office rooms, used for meetings, conferences, etc... In addition, it is also possible to entertain them after each hard-working session thanks to the extremely thoughtful and excellent accompanying services.
Currently, Luxcity Hotel & Apartment has welcomed many famous high-class guests at home and abroad. Therefore, we believe that we can satisfy even the most demanding guests. Come here and try it once, you won't be disappointed with us.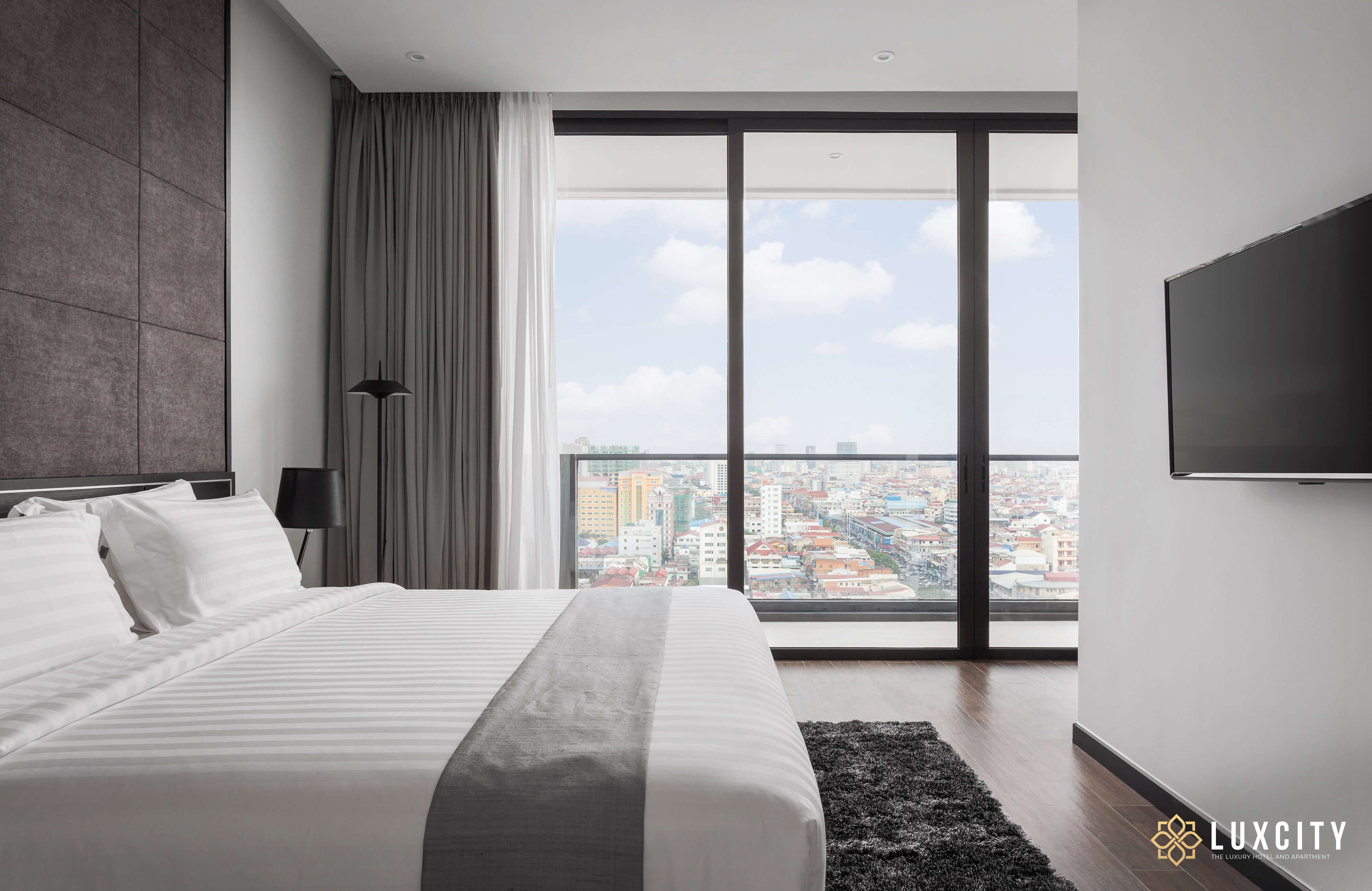 With this article, Luxcity hopes you will have a better understanding of what type of president hotel room is and the criteria to evaluate the best and best quality President Hotel Phnom Penh. In addition to the president hotel room, the hotel in Phnom Penh has many types of rooms with separate standards. Please follow the following articles of Luxcity to improve your understanding of these room types as well as specialize in hotels and tourism right now!