2023-01-03
The ultimate guide on how get to Phnom Penh from Kampong Thom by bus
If you want to depart from Kampong Thom and arrive in Phnom Penh by bus but have no idea where to start, let this article become your compass!
Phnom Penh has its own unique beauty, with wide green boulevards, beautiful Buddhist temples, and a wonderful riverfront promenade that will charm any visitor. And do you want to take the bus from Kampong Thom to Phnom Penh but aren't sure where to begin? We are here to help! This article has information about all the buses that go from Kampong Thom to Phnom Penh, including how long the trip takes, how much tickets cost, and where to buy them. On board, you'll also find all the information you need about the equipment, like whether it has air conditioning, power outlets, and WiFi. So, scroll down and have a look!
Learn more: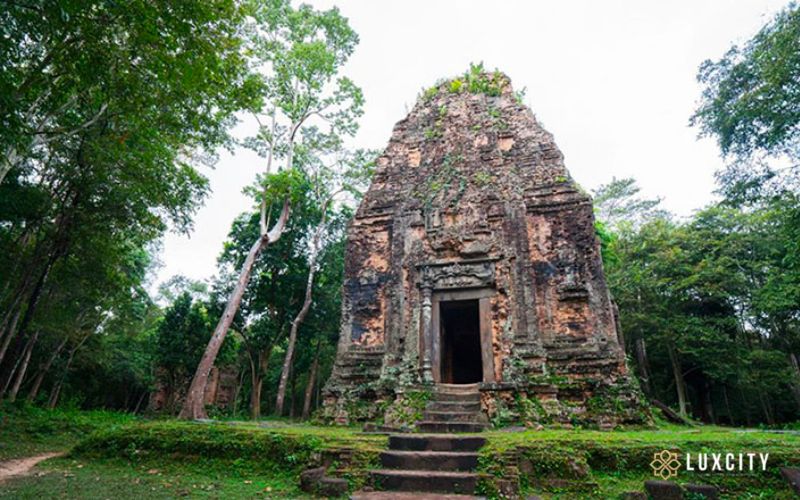 Cheapest Bus: US$7.00
Fastest Bus: 2h 15m
Earliest Bus: 4:30 AM
Latest Bus: 2:45 PM
Daily Bus Routes: 8
Distance: 79.4 miles.
Bus Companies: Virak Buntham, BookMeBus, Giant Ibis Transport, 12Go Asia, Mey Hong Transport, CamboTicket, Saly VIP.
You can make a reservation for a ticket and see a more detailed schedule on the websites Camboticket, Bookaway, and Bookmebus.
Essentials Tips for Bus Travelers from Kampong Thom to Phnom Penh
If you want to take a trip on a weekend, during the holiday season, or on a day when there are a lot of people traveling, you should definitely get your bus tickets in advance.
Bus tickets that are labeled as VIP, 1st, Gold, and so on are more expensive, but they offer a better degree of luxury. These tickets often include wide, plush, reclining seats, water, and either snacks or lunch.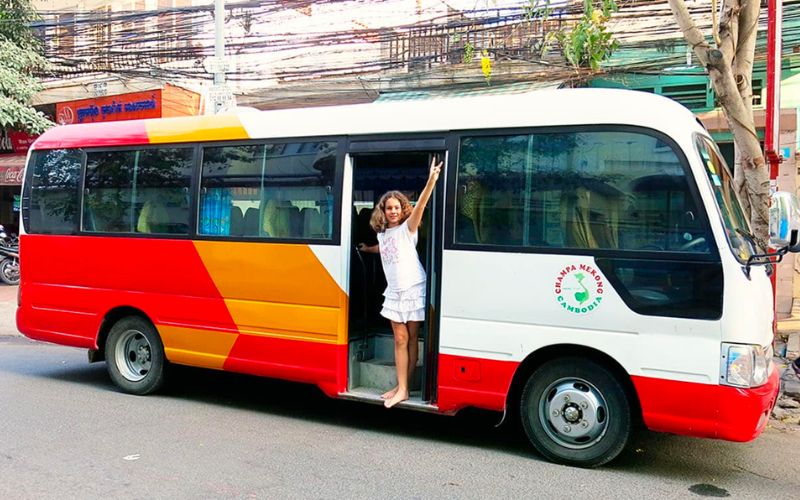 Even though not all buses have their own bathrooms, all of the drivers make sure that longer trips include at least one stop where people can use the bathroom or get something to eat.
Bring layers with you if you plan on riding an air-conditioned bus because the air conditioning on buses tends to be too strong.
It is advised that passengers bring along earplugs and a sleeping mask in order to prevent being awakened by a too loud on-board entertainment system as well as overhead lights that are turned on at stops.
It is important to remember that in the event that the bus requires refueling at some point along the journey, passengers will be required to exit.
Arrive at the bus terminal 20 to 30 minutes before the departure to give yourself enough time to find the platform where the bus will depart from.
Questions and answers on the bus route that runs between Kampong Thom and Phnom Penh
How much does it cost to take the bus from Kampong Thom to Phnom Penh?
This is dependent on a variety of factors, one of which is the day and time of travel. Phnom Penh may be reached for as little as $7.00 with a journey that takes around 3 hours and 30 minutes. Compare different deals in order to save some cash!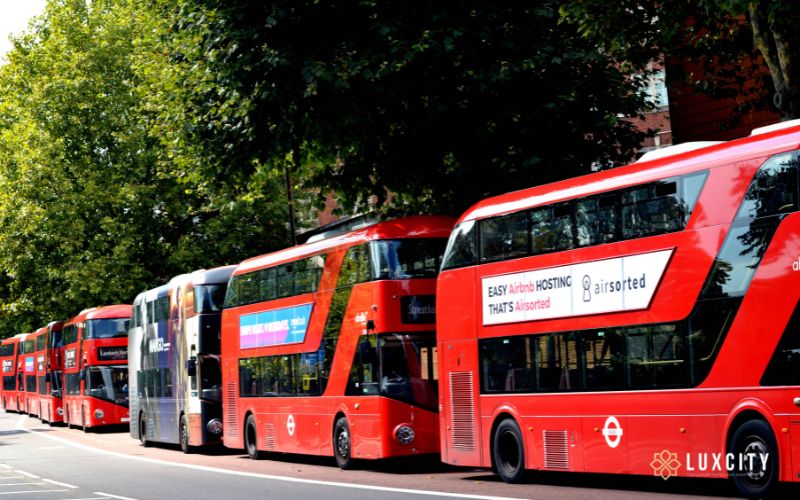 How many connections are there to choose from between Kampong Thom and Phnom Penh on a daily basis, on average?
The Kampong Thom to Phnom Penh bus route is served by around eight different connections on a daily basis. You may compare bus schedules using our search engine to locate the most convenient route for your travel needs.
When traveling by bus from Kampong Thom to Phnom Penh, how long does the trip typically take?
BookMeBus operates the bus that travels from Kampong Thom to Phnom Penh in 2 hours and 15 minutes. The price of a bus ticket to make this connection is $13.75. In this particular setting, it is important to keep in mind that the trip might end up taking significantly longer owing to the traffic.
When does the first bus leave from Kampong Thom for Phnom Penh, and what time is it?
The bus leaving Kampong Thom for Phnom Penh at 4:30 in the morning is the first one to arrive in the city. On Saturdays, Sundays, and holidays, however, the information regarding departure times may be different. You need to make use of our search engine to locate the precise times for the date of your intended trip.
When does the final bus leave Kampong Thom for Phnom Penh, and what time is it?
The last bus ride of the day from Kampong Thom to Phnom Penh is scheduled to leave at 2:45 in the afternoon. Take into consideration that the departure hours may change on weekdays, weekends, and holidays. You can easily locate the timings that apply to your intended travel date by using our search function.
Which bus lines travel between Kampong Thom and Phnom Penh?
Virak Buntham, BookMeBus, and Giant Ibis Transport are the three companies that travellers can choose to travel with while taking the bus from Kampong Thom to Phnom Penh. You are able to compare all of the available bus tickets with one another using our search engine, and then you can purchase the ticket that best meets your needs.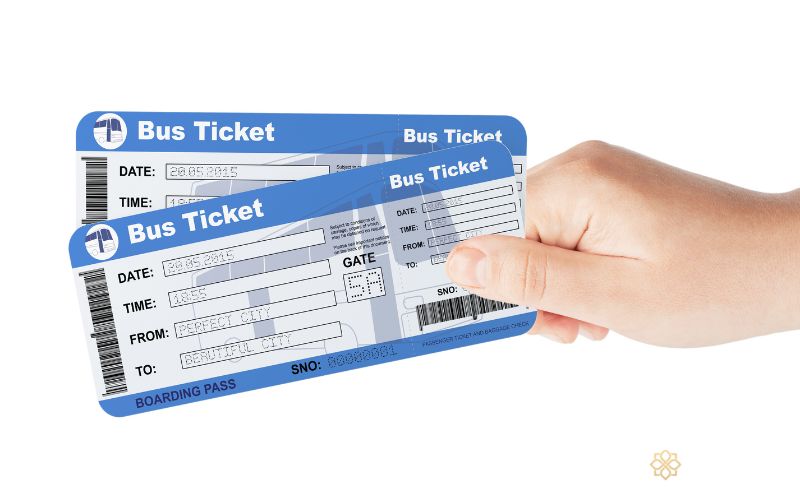 Is there a bus that goes from Kampong Thom to Phnom Penh without making any stops?
CheckMyBus presently compares 8 direct bus connections with the following operators if you are seeking for a bus route that travels directly from Kampong Thom to Phnom Penh. BookMeBus
What kinds of items am I permitted to bring on the bus from Kampong Thom to Phnom Penh?
It is possible that the items you are permitted to carry with you will differ depending on the transportation service you use. On the bus route between Kampong Thom and Phnom Penh, passengers are permitted to bring one carry-on bag in addition to their carry-on item at no additional cost. You may easily select a bus that meets all of your requirements for the date that you intend to go by making use of our search engine.
What kinds of amenities are offered on the bus ride between Kampong Thom and Phnom Penh?
The supplier determines the specifics of the onboard amenities and equipment. On the other hand, most long-distance buses have WiFi, so passengers can keep their friends informed about where they are during the ride. Ventilation is provided by air conditioning systems, which helps to make travelling an even more pleasurable experience. It is highly recommended that you make use of our search option in order to obtain accurate information regarding the amenities provided by the bus travelling from Kampong Thom to Phnom Penh on the date that you intend to take this trip.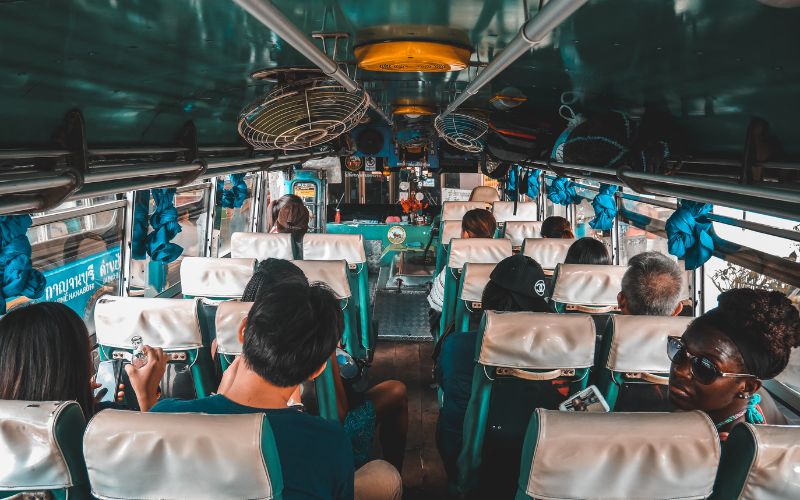 Once you hit the centre of Phnom Penh, you may easily walk to most of the city's most well-known sights in a single day. We recommend beginning your day in Phnom Penh in Phnom Penh Central Market. Phnom Penh Central Market is located in the heart of Phnom Penh's business district, 650 metres to the south east of Phnom Penh Railway Station. The Central Market is situated in a spectacular French-designed art-deco structure that was finished in 1937.
We propose heading north from Phnom Penh Central Market to Wat Phnom. According to mythology, Wat Phnom is the oldest structure in Phnom Penh, having been founded by Grandmother Penh in the late 14th century. Grandmother Penh is regarded as the city's creator, and this modest temple on a hill is the city's most important religious landmark. The temple has been enlarged and renovated several times, and there are several structures and shrines to explore, making a visit enjoyable even if you have no interest in the city's history.
For further details, continue to dive in to the exciting activities that we've compiled - learn more here.