2022-04-23
Top 10 Best Business Hotels in Phnom Penh City Center in 2023
A business hotel is a type of hotel popular worldwide for mainly business guests. These hotels are often designed in a very distinctive style that is suitable for holding corporate events, press conferences, or for business people to work and relax in a short time. This type of hotel is also very prominent in Phnom Penh and is highly sought after by customers. But not everyone knows well about this type of hotel and how to find the best business hotel in Phnom Penh in 2023. So please refer to the article below by Luxcity, we will help you solve this problem.

The Best Business Hotel in Phnom Penh City Center in 2023
1. Luxcity Hotel & Apartment
This is one of the best Business Hotels in Phnom Penh. Centrally located in Phnom Penh, Luxcity is famous for many attractive preferential services for customers. We have an outdoor swimming pool, a buffet restaurant, and spacious air-conditioned rooms with free Wi-Fi and neat, clean balconies.
All guest rooms here will provide you with a flat-screen cable TV, a mini-bar, and a safety deposit box. Rooms also come with a seating area and a private bathroom with a bath, shower, and hairdryer. Free bottled water is provided in the room.
A fitness center and billiards are among the property's recreational facilities. There is also a ticket service, a tour desk, and luggage storage.
A buffet breakfast is served daily at Luxcity Hotel & Apartment's restaurant. Lunch and dinner include Taiwanese dishes. Guests can order a variety of drinks including beer and cocktails at the bar for even bigger deals next time.
Luxcity Hotel & Apartment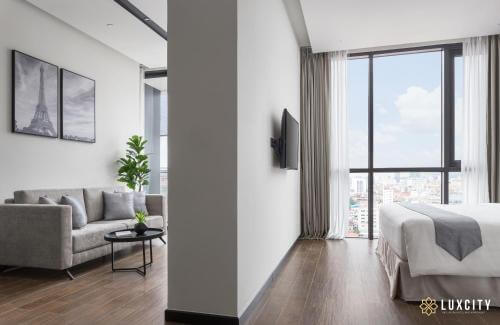 2. Amanjaya Pancam Suites Hotel
Ideally located along the Mekong river and in the center of Phnom Penh, AMAN JAYA Pancam Hotel is just walking distance from the Royal Palace and many other touristic attractions. All our spacious suites, elegantly decorated with local materials such as rosewood and raw silk, offer an incredible view of the river. We offer you the perfect blend of Cambodian elegance and Western comfort. After 18 years in operation, our hotel has been fully renovated and refurbished. It reopened in October 2020.
3. Palace Gate Hotel & Resort
Only 11.5km from Phnom Penh International Airport, located adjacent to the splendors of the Royal Palace and within a short walking distance of the bustling Riverside area of Sisowath Quay. Palace Gate Hotel offers you luxurious accommodation in perhaps the city's most convenient location. How often do you encounter a hotel where your neighbors are Royalty?
4. Poulo Wai Hotel & Apartment
With 196 rooms and apartments, we welcome you to Phnom Penh's most exciting new development where we blend traditional Cambodian hospitality with contemporary refinement. Whether it's a business or leisure stay our spacious and comfortable rooms, suites, and apartments, are perfectly designed for the modern traveler.
Learn more: Top 7 all-inclusive apartments for rent in Phnom Penh
5. Anik Palace Hotel
Anik palace is the third Anik hotel to be opened. Anik palace is located next to a pub street so that our guests can go have a drink during the nighttime or they can go to our Luna Skybar located on the top floor of Anik palace. Just like the first and second Anik Hotel, Anik Palace also provides you with amazing service and hospitality.
6. Hyatt Regency Phnom Penh
Hyatt Regency Phnom Penh is the newest five-star luxury hotel in Phnom Penh, conveniently located in the heart of the capital. The 247 energizing rooms and suites cater to both business and leisure travelers, offering inspiring decor and luxurious amenities, five unique dining experiences, nine multi-functional meeting spaces, a 24/7 fitness center, and Regency Club.
7. G Mekong Hotel
G Mekong Hotel rooms & facilities are furnished with locally made custom furniture in keeping with the architectural style of the hotel and all rooms are air-conditioned and have suited bathrooms, most with full-sized baths. Each room has writing desk areas, a fridge/mini bar, a room phone, 70+ channel cable TV, tea and coffee-making facilities, and complimentary drinking water each day. Internet access is via wifi and cable connection.
8. Sunway Hotel Phnom Penh
Situated in the city center in one of Phnom Penh's exclusive areas, Sunway Hotel is a 4-star international chain hotel, comprising 138 spacious guest rooms and suites as well as 10 meeting rooms. Surrounded by lush greenery amidst colonial buildings, the hotel is a walking distance of the Mekong riverfront, major shopping, ministries, embassies, banks, and tourist attractions and it is only 20 minute drive from Phnom Penh International Airport.
Learn more: Top 12 Best 4-Star Hotels in Phnom Penh For a Luxurious Gateway
9. Baitong Hotel & Resort
Urban meets nature. Prepare to be inspired. At Baitong, quintessential design elements meet you around each corner and down every corridor. Our unique architecture with lush gardens, minimal ponds, cascading Jacuzzi, striking staircases, glass-bottomed pool and walkway, and other bold features will enhance your stay. Rough stone, unfinished wood, leather, and metallic finishes are mixed & matched to create the feel of industrial functionality while adding warmth, comfort, and simple sophistication. The captivating green creates a serene and natural space within the urban setting.
10. NagaWorld
With the latest expansion, NagaWorld now consists of 1,658 suites and deluxe rooms, over 20 food, and beverage outlets and clubs, 2 all-suite luxurious spas, the state-of-the-art 2,000-seater NABA Theater at Naga2, Cambodia's first underground shopping gallery operated by China Duty-Free Group, extensive entertainment services, and premium meeting spaces.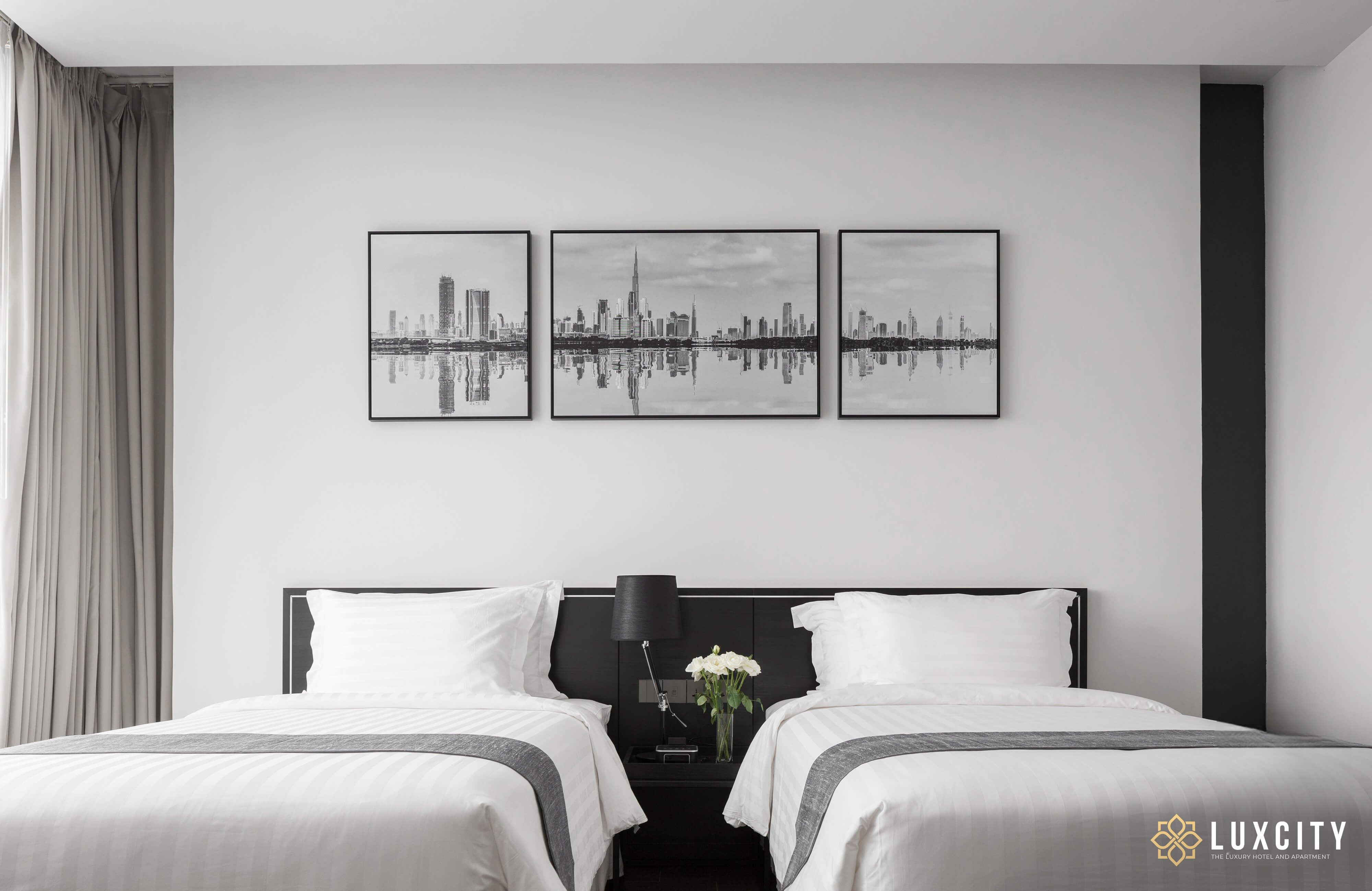 About Phnom Penh
Phnom Penh city was formed in the 14th century, associated with the legend of the famous Wat Phnom. Phnom Penh was officially the capital of Cambodia nearly 600 years ago. This city was chosen because it is located in the center of the country, near a large river, an important traffic hub, and suitable for trade and commerce.
Today, Phnom Penh has been extremely developed, modern roads, vehicles, and commercial centers are built up a lot. Since then, the capital Phnom Penh has become a major city attracting many international tourists to visit, with many attractive tourist attractions and colorful festivals held every year.
In particular, Phnom Penh is also famous for its very popular hotel business services. A typical example can be mentioned as the Business Hotel. Senior officials often choose this place as a stopover to organize conferences and seminars and discuss big things. So what makes Business Hotel in Phnom Penh so famous and attractive? Let's find out in today's article.
What is a Business Hotel?
A business hotel is a type of hotel that is popular all over the world for mainly business travelers on business trips or short-term tourists.
It is a hotel for business people, and people traveling on business is the original and most popular hotel business service in the world. Hotels are usually built in the central areas of big cities.
Nowadays, guests staying at this type of hotel are not only business people, and business travelers but also tourists.
Learn More: Top 10 Hotel near the riverside in Phnom Penh, Cambodia [Best Quality]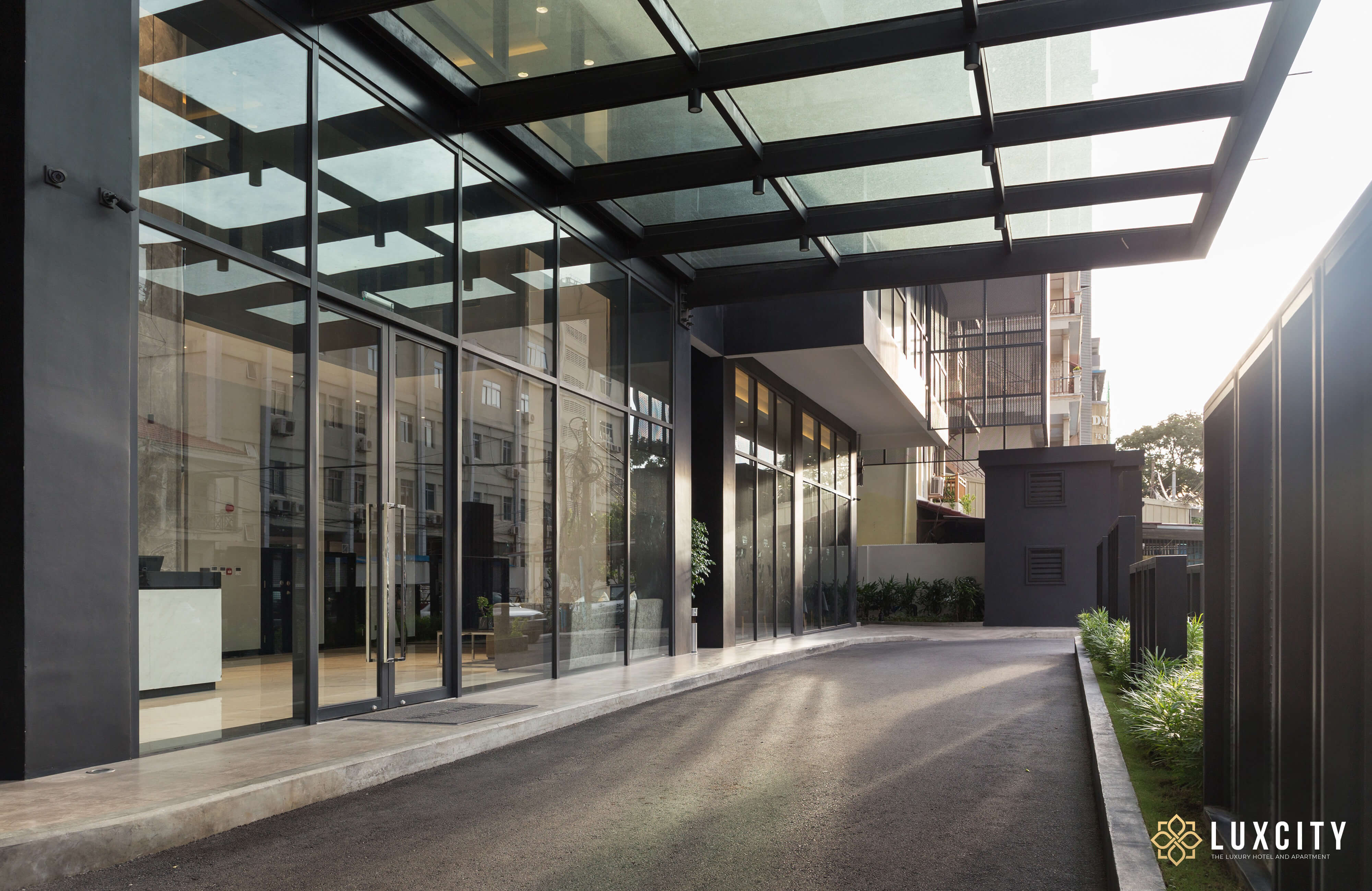 Which business hotels are suitable for the target audience and time?
Customers
- The main customers of the Commercial Hotel type are businessmen, and government employees on business trips - participating in conferences, seminars, or specialized training and retraining courses. Besides, the commercial hotel also welcomes groups of tourists, and tourists travel freely…
Length of stay
Because it mainly serves business and business customers, the length of stay of guests at commercial guests is usually short, temporary stay - hourly rental…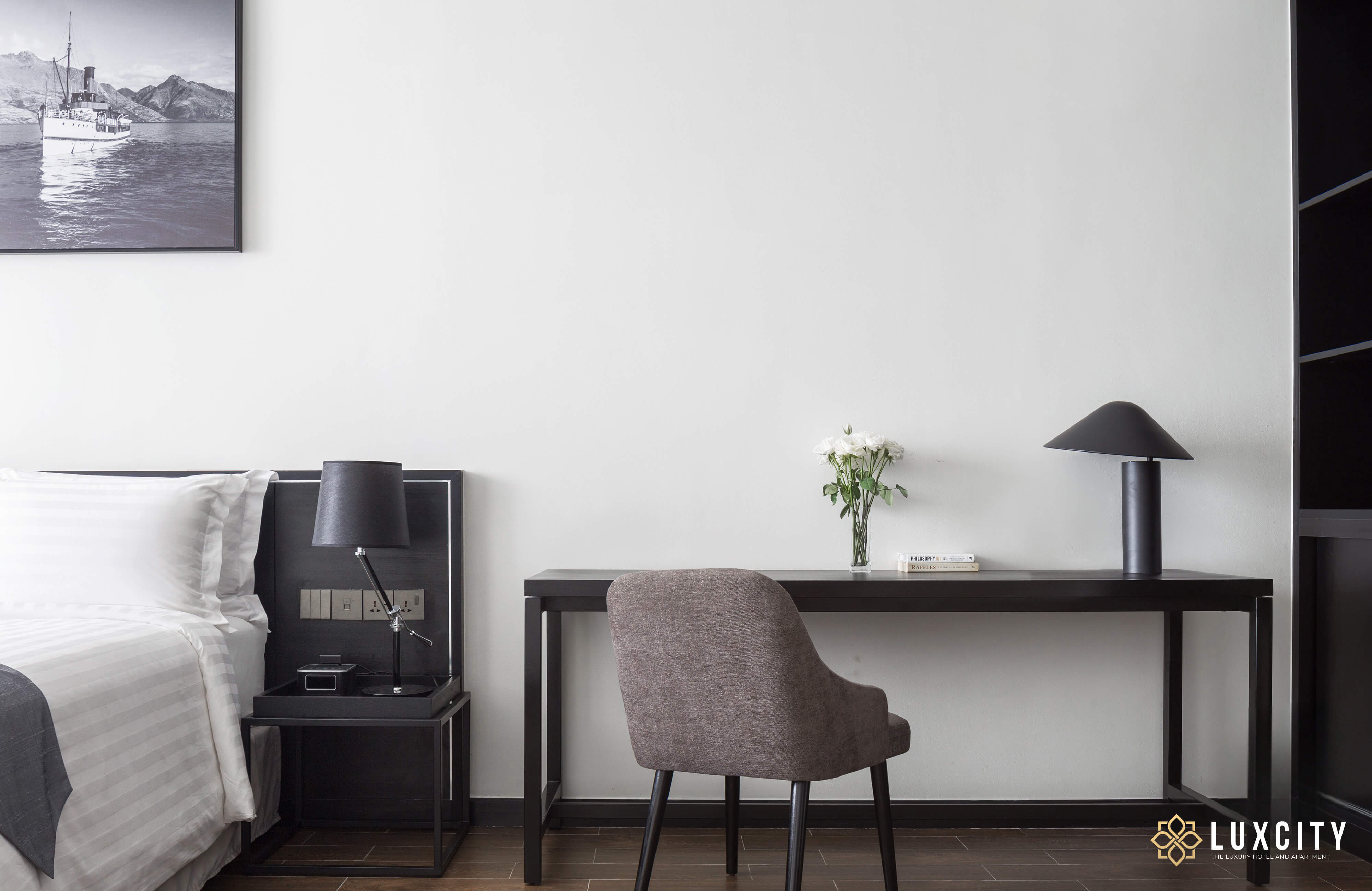 What are the characteristics of Business hotels in Phnom Penh?
Business Hotel was born to meet the accommodation needs of a large number of customers who often move at home and abroad, based on specific customers and target markets to classify.
This type of hotel mostly owns beautiful locations in the city center, large event venues, or on routes leading to domestic and international airports, etc., creating more convenient conditions for customers to travel for the main object of stay.
The length of stay of customers at Business hotels is usually short, a temporary stay or hourly rental depending on the needs of the customer. According to the target customer orientation, which are merchants and civil servants, the rooms are furnished including a desk to best serve the needs of the staying customers. At the same time, the lobby area of ​​these hotels is also equipped with many sofas and tables for customers to be more convenient when discussing work or talking with partners.
In terms of amenities, along with the development of current high-class hotels, Business Hotel will include internal facilities such as meeting rooms, conference rooms, souvenir shops, a gym, and a spa. ...at the same time deploying other convenient services such as laundry service, hiring interpreters, hiring secretaries, translating documents, printing documents,...
Learn more: What Business Travelers Want From Hotels - Top 10 Best facilities for business travelers in hotel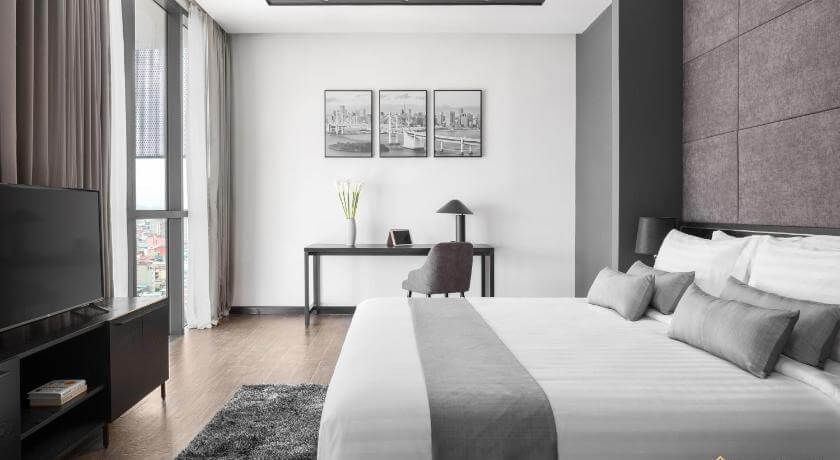 Actually above is a list of the best hotels for you if you are looking for a Business Hotel. Surely in many more years or in the coming time, hotels in Phnom Penh will develop even more in Phnom Penh and attract more tourists day by day. Luxcity Hotel & Apartment is still the wisest choice for you when you come to Phnom Penh to work and do business. Don't forget to contact us today to get the biggest deals of the year!
Read more travel articles in Cambodia and inspiration from Luxcity.com.