2022-05-18
Top 5 the best quarantine hotel in Phnom Penh [Update]
Faced with the still tense epidemic situation in the world in general, or in Phnom Penh in particular, a place to stay for social isolation is a very necessary search. We each need to have a sense of protection together with the community to be able to defeat this Covid-19 epidemic. Therefore, the tourism industry has launched a model of accommodation called quarantine hotels, to meet the above needs of the people. However, quarantine hotels are still quite new and have not been widely available. Today's article Luxcity Hotel will help you learn about this model of residence - quarantine hotels in Phnom Penh to equip yourself with more knowledge about epidemic prevention and find a suitable place for you during the quarantine period!
Read More: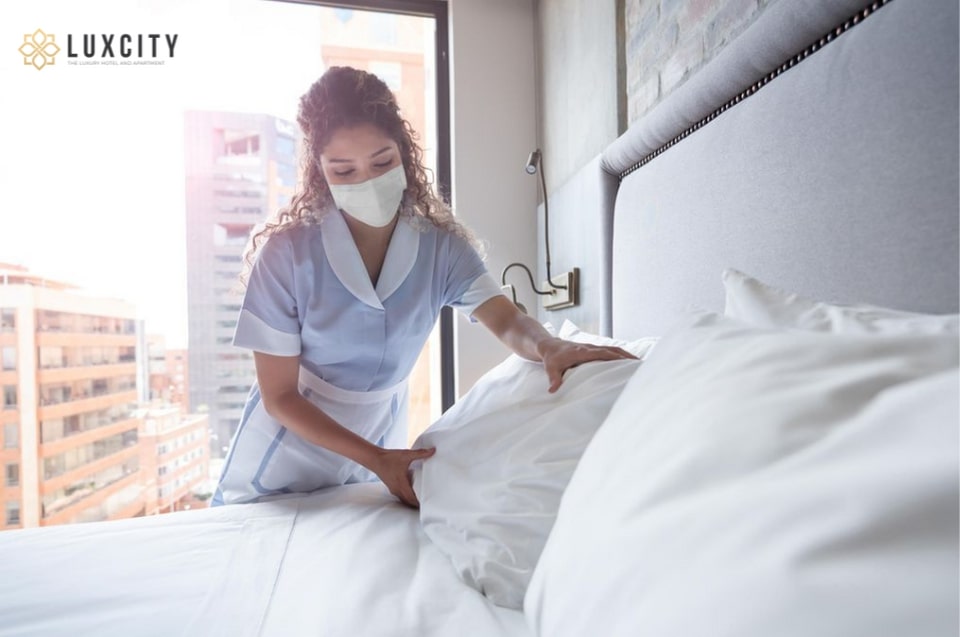 What is a Quarantine hotel?
Definition Quarantine hotel This is a hotel that serves customers who need to go through the isolation process. Instead of centralized isolation, these individuals will choose to isolate themselves at a hotel, for a fee.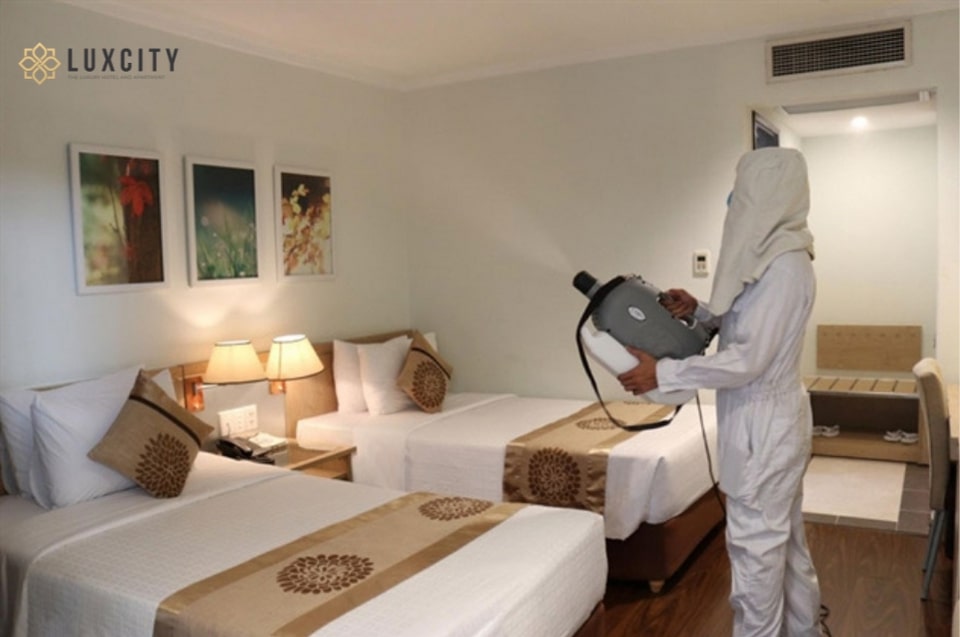 Customers should use the Quarantine hotel in Phnom Penh
Foreigners are experts, investors, business managers, high-tech workers (referred to as experts), and relatives (father, mother, wife, husband, child)
Foreigners entering for diplomatic purposes, official duties, and relatives (father, mother, wife, husband, children)
Citizens of Phnom Penh: businessmen, intellectuals, students, students, the elderly, people visiting relatives, expired tourism, contract labor, expired study, stuck abroad, people out Foreigners for medical examination and treatment, people with expired visas
Students, foreign students studying in Phnom Penh
Humanitarian immigration cases and other special cases
Customers in F1 and F2 categories.
Service features at Quarantine hotels in Phnom Penh
A basic service package at a quarantined hotel should normally include the room and all-inclusive food service. In addition, high-end hotels can introduce or include more diverse services in their isolation packages.
Accommodation service with many room types suitable for different groups of guests: single room for one guest and Suite room with a separate kitchen for family customers.
Culinary services with packages served in sets or individual dishes, and tailor-made menus (gluten-free, dairy-free)
Personal sports equipment such as weights, yoga mats, treadmills
Free laundry daily depending on room type
Hotel private car transfer service
The hotel supports customers to contact the authorities in the work of taking samples for testing and obtaining negative certificates and related documents.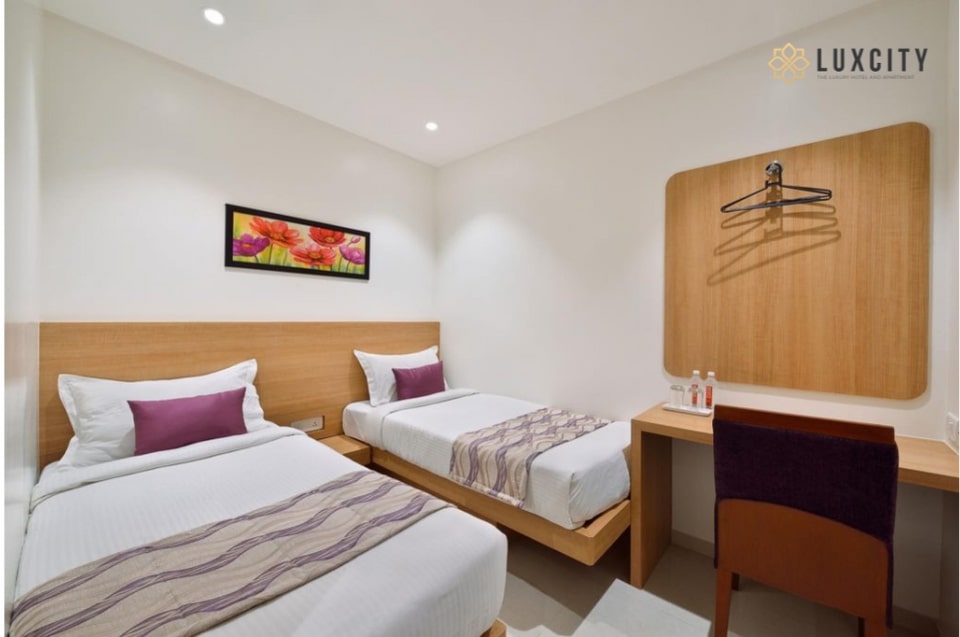 The process of receiving guests from quarantine hotels in Phnom Penh
Those in need of isolation can book a room in two ways: contact the hotel directly or book a room through Luxcity channel.
For guests entering Phnom Penh, after choosing a quarantined hotel, the customer must notify the representative mission in the host country and the Consulate General of Phnom Penh in the host country. Guests then move to the isolation location by a dedicated vehicle of the health authority or a hotel vehicle, if available.
Guests will be tested several times during isolation and will be issued a certificate of completion of isolation by the health authority if negative.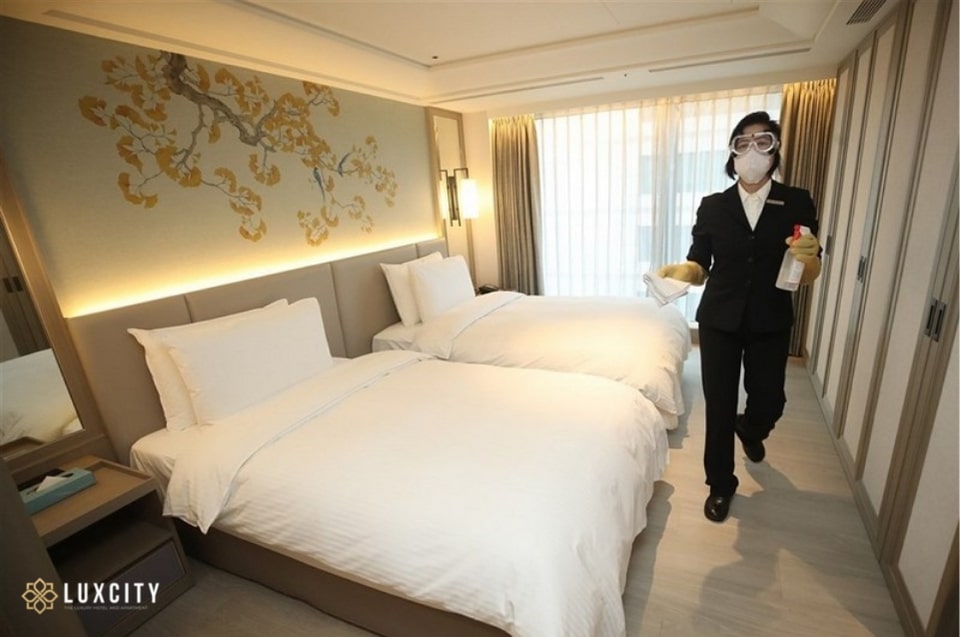 Safety standards that each quarantine hotel in Phnom Penh needs to be guaranteed
According to our information, the safety standards at an isolated hotel are set by the local health department, and they will be assessed. Hotels that fully meet these standards will be granted a permit to be isolated hotels. The Department of Health also has the right to inspect and inspect hotels randomly and regularly.
Some regulations and safety standards at a quarantined hotel in Phnom Penh:
Ensure to meet the requirements on arrangement and arrangement of isolation service areas at the hotel. Stratification for different groups of guests, guests entering on different days have to have different floors
Ensure facilities, room cleaning services, meals, laundry, disinfection, etc. to serve the needs of quarantined people
Make sure to train all hotel staff to serve in isolation
Disseminate regulations on medical isolation in the reception area and each isolation room
Distributing medical masks to quarantined people during their stay at the hotel
The direct housekeeping staff is also quarantined for 14 days with guests. Guests who complete isolation with negative results will then be able to return to the hotel's service staff.
Equip specialized equipment and protective gear for service staff in the area reserved for isolation
Equip medical masks and disinfectant solutions for all staff in other departments
All hotel staff is guaranteed to be vaccinated against COVID-19 with 2 doses of COVID-19 vaccine and conduct periodic inspection and sampling according to the instructions of health authorities.
Top 5 the best quarantine hotel in Phnom Penh
Sokha Phnom Penh
Sokha Phnom Penh is strategically located on the Chroy Changvar peninsula, opposite the Royal Palace and approximately 13 km from Phnom Penh International Airport. Offering a breathtaking view of the majestic Royal Palace, Chaktomuk River, and a wide sweeping view of the untouched greenery rural beauty opposite of Phnom Penh capital, Sokha Phnom Penh provides the peaceful, less busy side of the congested capital.
Courtyard by Marriott Phnom Penh
Situated in the city center, less than a mile from the Royal Palace and the centuries-old Wat Phnom temple, Courtyard by Marriott Phnom Penh appeals to modern travelers with its contemporary design and array of amenities. Each level of our hotel builds on the guest experience. The Lounge and adjacent Terrace offer spaces to work, dine or relax with beverages, snacks, and complimentary Wi-Fi. All-day dining at The Mekong highlights local Khmer and international cuisines. Guest rooms and suites overlook the city and river. Our outdoor pool and 24-hour fitness center offer equally spectacular views as The Deck, a rooftop bar featuring creative cocktails, and, on select days, a live DJ. Guests can also gather more formally in two intimate meeting spaces. Strategically set in the Central Business District near Monivong Boulevard, our hotel offers easy access to offices, embassies, and city attractions. Enjoy a comfortable, convenient stay in Cambodia at Courtyard by Marriott Phnom Penh.
Himawari Hotel Apartments
Perched on the idyllic setting of Tonle Sap River, banks of the Chaktomuk River, be immersed by the essence of serenity at Himawari Hotel Apartments; a five-star establishment. Enjoy splendid views of the Mekong Delta in a tranquil resort haven. Be pampered in the Himawari Suites and Apartments where you can enjoy the privacy and comfort of home. Himawari Hotel Apartments was first launched as Micasa Hotel Apartments on 20 June 2001 by His Excellency Samdech HUN SEN, Prime Minister of The Royal Government of Cambodia. In Japanese, its means Sunflower and here at the Himawari, we always seek to project our cheerfulness, friendliness and serenity likened to a bed of sunflowers blooming under the glorious sunlight. We invite you to experience this unique Khmer hospitality.
Rosewood Phnom Penh
Rosewood Phnom Penh is nestled in the 188-meter-high Vattanac Capital Tower, prominently located in the central business district with an unobstructed view of the city and the fabled Mekong River. The hotel features 175 rooms and suites; five restaurants and lounges including SORA, a sky bar on a cantilevered terrace; Sense, A Rosewood Spa, a 24-hour fitness center, an indoor pool, and meeting facilities. The Royal Palace, National Museum, Central Market, Wat Phnom, the art street, riverside, and other most fascinating historic landmarks are within easy reach.
Hotel & Resort
Urban meets nature. Prepare to be inspired. At Baitong, quintessential design elements meet you around each corner and down every corridor. Our unique architecture with lush gardens, minimal ponds, cascading Jacuzzi, striking staircases, glass-bottomed pool and walkway, and other bold features will enhance your stay. Rough stone, unfinished wood, leather, and metallic finishes are mixed & matched to create the feel of industrial functionality while adding warmth, comfort, and simple sophistication. The captivating green creates a serene and natural space within the urban setting.
Ohana Phnom Penh Palace Hotel
The Ohana Phnom Penh Palace Hotel is an admired boutique hotel in the heart of Phnom Penh's much sought-after Riverside locale. We are within easy walking distance of a number of the city's premier tourist attractions, such as the Royal Palace, National Museum, and Wat Phnom. To enhance your relaxation we have a shady ground floor pool, and a roof-top sun terrace featuring two infinity plunge pools with Jacuzzis, affording wonderful river and city panoramas. We are the perfect choice for travelers wishing to have a calming and comfortable stay in the heart of the action.
Phnom Penh Katari Hotel
Situated in the intriguing and prestigious heart of Phnom Penh with a very contemporary and fast-paced economic zone and tourist destination where 5 minutes walk away from Independent Monument. PHNOM PENH KATARI Hotel provides varieties of facilities such as a cafe, a business center, a restaurant, and a swimming pool along with a fitness center, massage, and rooftop sky bar.
Sensory Park Urban Hotel
The Sensory Park Urban Hotel provides a quality remarkable short experience of living and connecting with nature to the guest and satisfy in all types of the senses. The hotel encapsulates the essence of leisure travel to experience the wellness of senses – a perfect combination of work and travel that give greater peace of mind with the restorative of excellence, comfort, and convenience in the heart of the busy central district that put guests quietly in the heart of the city of Phnom Penh. The hotel's 78 rooms and suites are designed with gardens on each of every two floors and a swimming pool with a panoramic view of the city with a variety of facilities such as Sensory Café, Sense Club Lounge, Extrasensory Massage & Spa, Fitness Centre, and AROM Skybar with a 360-degree view of the city and a modern amenities to meet your needs.
Samathi Lake Resort
We have created a complete oasis for you to come and relax, rejuvenate your mind and body and leave us feeling completely amazing! Our lovely team is here to take care of you and make you feel fantastic, simply enjoying a morning gym session by the lake, relaxing by the pool, sampling some fantastic food from our on-site restaurant, or indulging in one of our amazing spa treatments. The accommodation at Samathi Lake Resort ranges from a standard room to one of our fantastic superior suites, all rooms have queen-sized beds & en-suites. Our deluxe balcony rooms, family suites, and lakeside suites come with air-conditioning as standard. All accommodation has been lovingly designed with plenty of attention to detail to provide maximum comfort. Use of all facilities is included in the price.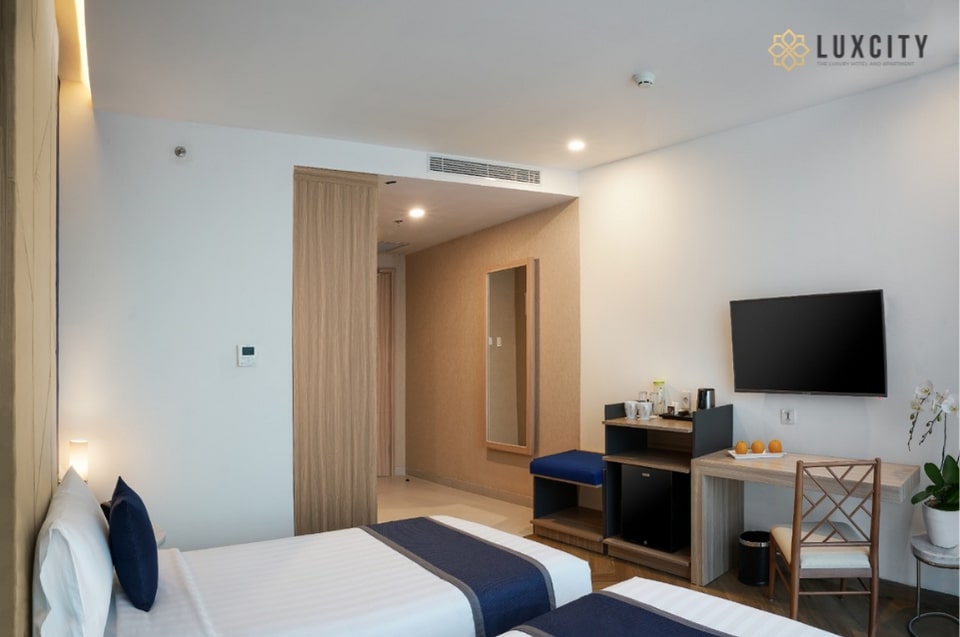 After reading this article, you probably have a better understanding of the Quarantine Hotel in Phnom Penh and the isolation procedures here, right? If you are an entry tourist, or you want to move to another place, before you arrive, you must perform full isolation to protect the community. And one of the best ways then for you is to choose for yourself a quality Quarantine Hotel to ensure your quarantine time is quick, nice, and comfortable. If you have any questions, please contact Luxcity for answers.
Read more travel articles in Cambodia and inspiration from Luxcity.com.