2022-04-22
Top 9 Hotel near the riverside in Phnom Penh, Cambodia [Best Quality]
Phnom Penh is a huge, developed capital, notably for tourism. The tourism business has made many advances since last year when thousands of tourists visit. With more than 10km of beaches, you may be asking which is best and where to stay. Here? Luxcity today will present you with Phnom Penh's gorgeous beaches and hotels. This blog post should help you find a riverside hotel in Phnom Penh.
Learn More: Top 10 Best Hotels in Phnom Penh (For 2023)
Top 10 best hotels near Riverside Phnom Penh
1. Luxcity Hotel & Apartment
This is one of the best hotels near Riverside Phnom Penh. Centrally located in Phnom Penh, this is a convenient location for all itineraries on your trip. You can easily go to your favorite places near Riverside Phnom Penh, visit any entertainment area, and eat comfortably.
Each room in this hotel is very spacious and fully equipped with modern and comfortable facilities. There are special attractions that not all hotels have. The services around Luxcity are also very quality, the staff is enthusiastic and attentive, taking good care of customers. Guests can approach the front desk at any time for assistance with external services such as taxis, luggage storage, currency exchange, etc. Meals are also served with a variety of specialties from many countries around the world. It is also located near many famous attractions and tourist attractions in Phnom Penh. You can easily move there without spending too much.
With such good benefits, Luxcity is always confident that it can satisfy even the most demanding guests. So if you are looking for a place to stay when visiting Riverside Phnom Penh, please refer to Luxcity Hotel & Apartment! We are always ready to welcome you and give you lots of offers.
Luxcity Hotel & Apartment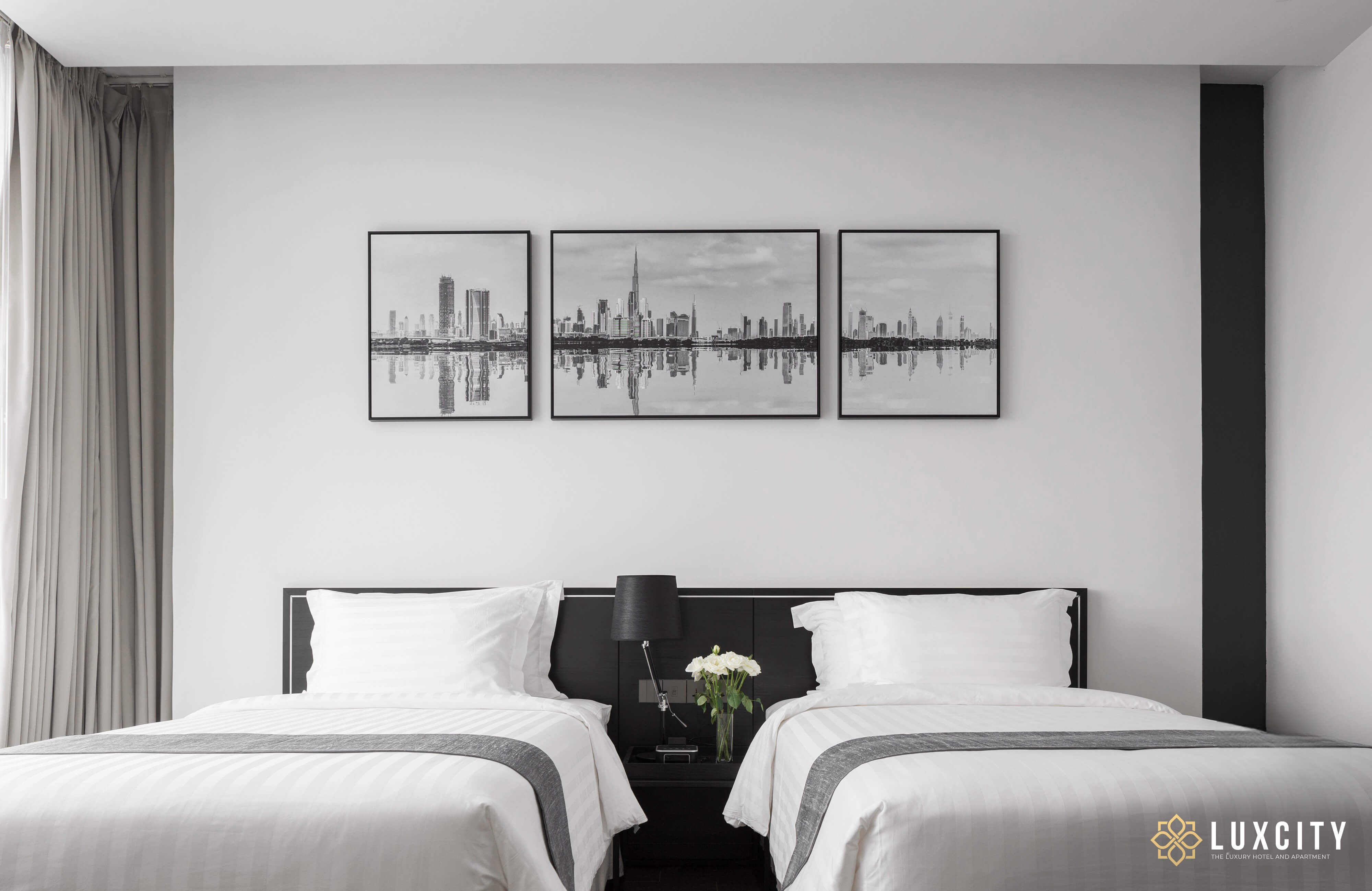 2. TAO Riverside Residence
Centrally located right on the lively Sisowath Quay Riverside strip in Daun Penh, TAO Riverside Residence offers uniquely designed, riverfront accommodations with sweeping views of the Tonle Sap and Mekong Rivers. Guests can approach the 24-hour front desk for a taxi, luggage storage, currency exchange, and tour arrangements.
Located close to several attractions, Royal Palace is just 800 meters away, while the National Museum is 650 meters from the property. Airport transfers can be arranged at an additional charge.
3. Onederz Hostel Phnom Penh
Located along the lively riverside on Sisowath Quay, Onederz Phnom Penh offers rooms with free WiFi and a private bathroom. The property has a 24-hour front desk and a business center for guests. Onederz Phnom Penh is a 5-minute walk from the Royal Palace of Cambodia and 1 km from the Central Market. Air-conditioned rooms are fitted with a flat-screen cable TV, wardrobe, and work desk. The private bathroom comes with a shower, slippers and free toiletries. In addition, 2 complimentary bottles of water are provided in the room daily.
Learn more: Top 7 hotels in Phnom Penh with bathtubs to soak your worries away
4. Amanjaya Pancam Suites Hotel
Located 300 meters from Wat Ounaloum along Sisowath Quay, the AMAN JAYA PANCAM SUITES HOTEL features a terrace view of the river and an in-house restaurant where guests can enjoy meals or have a drink at the bar. Free WiFi is available throughout the property. Air-conditioned rooms have polished cherry wood flooring and offer a private balcony with views. The seating area is fitted with a flat-screen cable TV and a sofa. All rooms feature en suite bathrooms where some units offer a hot tub. Complimentary toiletries and a hairdryer is included.
5. SUN & MOON, Urban Hote
SUN & MOON, Urban Hotel offers accommodation in the Daun Penh district of Phnom Penh and features an outdoor swimming pool. Guests can dine at the hotel's rooftop bar and on-site restaurant. Guests also have access to a fitness center and spa facilities with a sauna and steam room. Modern-style air-conditioned rooms with impressive décor open up to city views and are fitted with a flat-screen TV. Some rooms have a seating area. Private bathrooms come with a bath and/or shower, bathrobes, slippers, and free toiletries.
6. Harmony Phnom Penh Hotel
Harmony Phnom Penh Hotel features an infinity pool and rooftop sun terrace, a 5-minute walk from the Royal Palace. Guests can enjoy a meal at the on-site restaurant or enjoy a drink at the bar. Free Wi-Fi is available throughout the property. The on-site restaurant serves a selection of local cuisine with a variety of drinks. Room service is also available for guests' convenience.
7. Phuminh Hotel Riverside
Phuminh Hotel Riverside is located in Phnom Penh, just 300 meters from the lively Riverside Park. The hotel welcomes guests with an outdoor swimming pool and free internet access. Guests can enjoy delicious Cambodian meals and popular Western dishes at the on-site restaurant. Guests can also choose to dine in their rooms.
8. New Season Riverside Hotel
Located along the Tonle Sap River in Phnom Penh, Gallops Riverside Hotel is a modern hotel offering air-conditioned rooms with free Wi-Fi. The hotel also features a restaurant, a 24-hour front desk, and a garden. Other facilities include a function room for small meetings, a ticket service, and a tour desk. This is our guests' favorite part of Phnom Penh, according to independent reviews.
9. Lux Riverside Hotel & Apartment
Located along Sisowath Wharf, Lux Riverside Hotel offers luxurious and comfortable accommodations. Guests can enjoy a meal at the on-site restaurant or have a drink at the bar. Free Wi-Fi is available throughout the property.
Learn more: Top 7 Best Riverside Restaurants Phnom Penh to Dine with a Scenic View
About Phnom Penh, Cambodia
Phnom Penh is the capital and the most modern economic center of the Kingdom of Cambodia. Phnom Penh has an extremely large area and population. This is a city that blends modern French architecture with ancient Khmer architecture. Therefore, this place not only attracts tourists with bustling economic activities, but Phnom Penh is also an attractive destination for people to freely experience the culture, cuisine, and life of the people here. This capital of Cambodia has become the ideal place for you to have an interesting trip without having to worry too much about the cost issue.
Coming to Phnom Penh, you can visit some outstanding tourist sites and experience the unique Khmer culture, and rich Cambodian cuisine or immerse yourself in the unique lifestyle of the people here. Especially life, in the area around Riverside Phnom Penh. This is an area that is very impressive to visitors because of the fresh air and peaceful space, not noisy. Tourists often come here to get the most relaxing and comfortable feeling. So when coming to this area, do not forget to choose for yourself the best hotel near Riverside Phnom Penh, to have the most interesting and attractive experience for yourself!
About Riverside Phnom Penh
Tourism and resorts around the riverside in Phnom Penh are extremely popular and developed tourism items, associated with sea tourism. There are many kinds of great services here, such as organizing swimming and sports activities. And in that, it is impossible not to mention the hotel business to serve the above needs of customers. Restaurants around the riverside Phnom Penh were built more and more. Because this place has a very clear season, in the summer, the tourists come here more and more. Some large, clean and beautiful hotels also attract a lot of guests. Therefore, after stressful and tiring working days, if you want to temporarily leave the city to enjoy a complete vacation next to the fresh and cool Riverside, choosing the best hotel is always a must. placed on top priority.
Summer is also coming, if you have a need, please refer to today's article to receive the most honest and wonderful sharing about Riverside Phnom Penh and hotels to stay here more.
Learn more: Most stunning hotel room views near me to discover Phnom Penh from another angle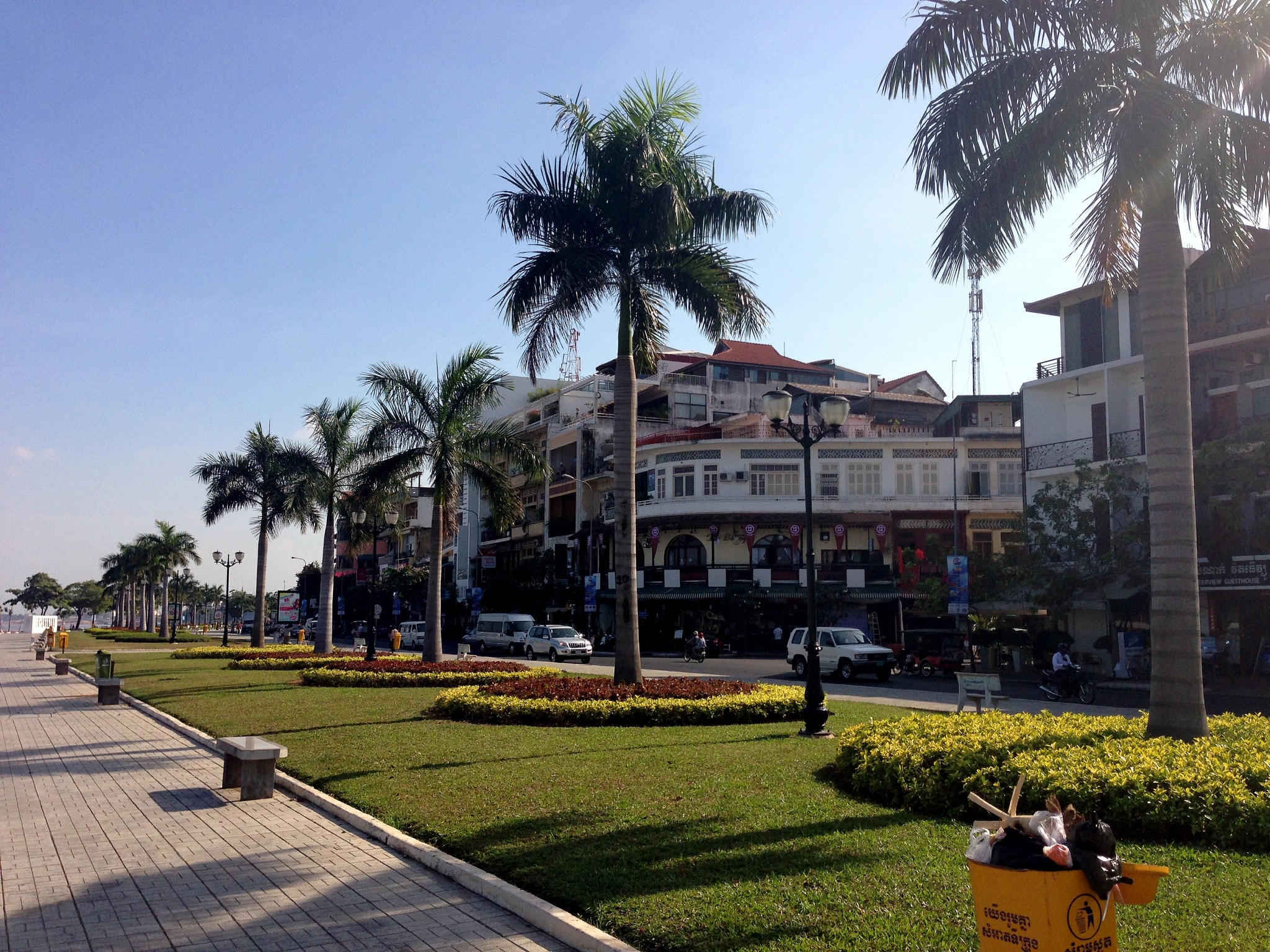 Advantages of hotels near Riverside Phnom Penh
Not only convenient for swimming, playing, sightseeing, and watching the sea, choosing to rent a room at Riverside Phnom Penh hotel will also give you a lot of other interesting experiences that other hotels in the city do not have. Okay.
Phnom Penh is a tourist city, so it is very normal for many motels, hotels, resorts, etc. to be present here. But there are many other interesting reasons that you should choose for yourself a hotel near Riverside Phnom Penh as a stopover resort for your trip instead of hotels in other streets. So what are those reasons?
An ideal viewing spot
Riverside Phnom Penh was once rated as one of the very beautiful tourist destinations, so when you come to this place, you should not miss the opportunity to admire the beauty of these beaches by choosing a room for yourself. The hotel is near the sea so that you can enjoy the sea view whenever. In the morning, walking on the beach, and watching the sunrise becomes easier and more convenient than ever.
It is convenient for organizing team activities
Possessing many long and wide beaches, and fine white sand beaches, Riverside Phnom Penh has been chosen as the venue for many beach sports, so many companies and organizations have also chosen this place to do so. where to organize fun and entertainment activities, and organize team-building. And of course, choosing a hotel near the sea will help people move to the sea more conveniently, saving time and travel costs a lot.
Enjoy a variety of delicious seafood dishes
Choosing a hotel near the sea not only gives you convenience in traveling, and sightseeing, but here you can also enjoy delicious seafood dishes at any time in the area. This place also has a lot of restaurants and eateries specializing in processing fresh seafood, but the prices are very affordable. Fresh seafood such as shrimp, crab, crab, clam, and fish,... are stocked in glass tanks so you can easily choose the biggest, freshest ones to enjoy. This is probably the biggest plus point of these stores.
Getting to the city center is easy
Many tourist areas have beaches far from the city center, so tourists are often confused when choosing a hotel in the city center or a hotel near the sea, but coming to Phnom Penh is completely different. You can rest assured to choose hotels near the sea to enjoy the open space, and fresh and cool air, when you want to move to the city center to have fun and visit, it only takes about 5-10 minutes. minutes driving, very fast and convenient.
The above are the reasons that you should not miss the opportunity to choose for yourself a stopover or resort near the riverside Phnom Penh to facilitate fun activities on the sea, enjoy the fresh air, and enjoy the fresh air cool wind blowing in from the sea. Surely those interesting experiences will make your trip much more attractive.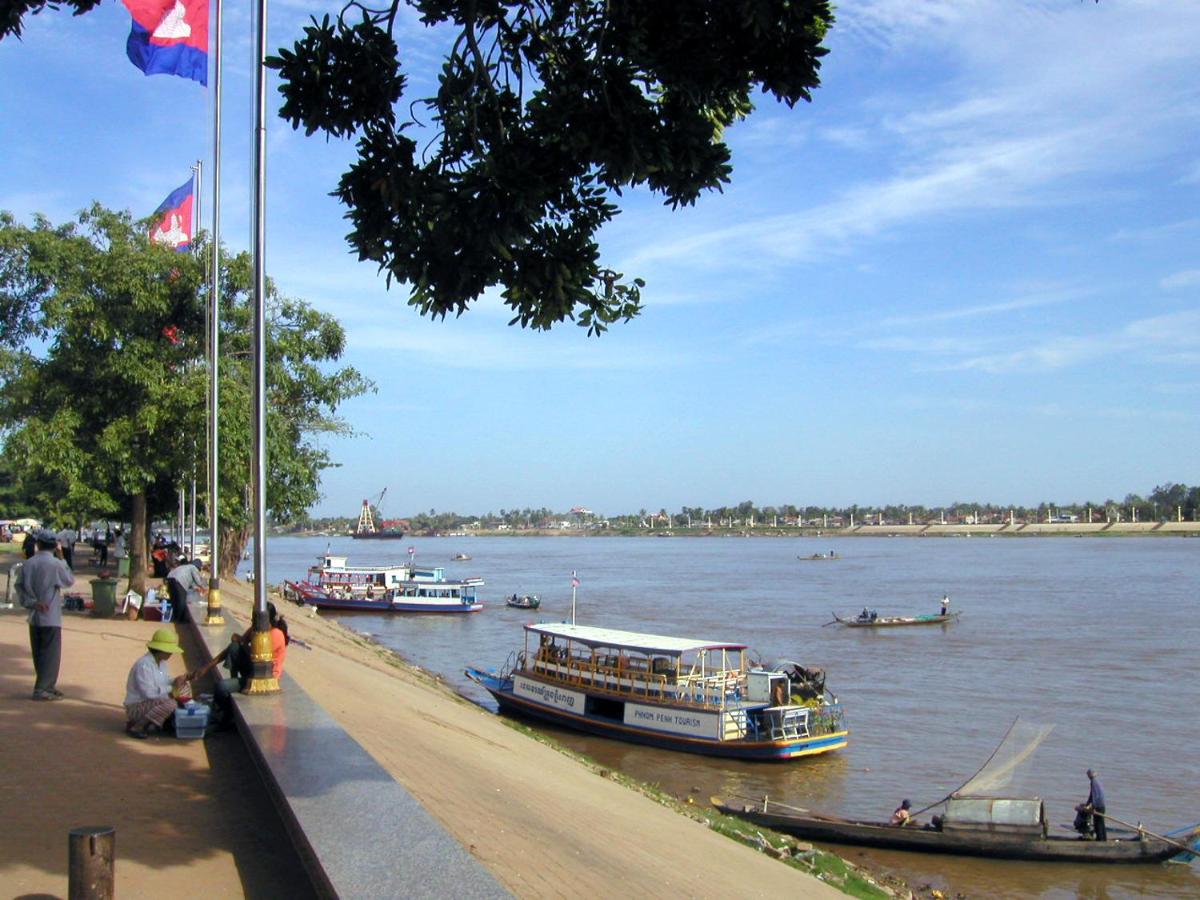 Customers at these hotels will be well-cared-for. Above are riverside Phnom Penh's top 10 hotels. If you can visit Phnom Penh, do so. Have you found the right hotel? When you need quality accommodation, contact Luxcity. We're offering fantastic deals throughout the year. We hope you find this information useful.
Read more travel articles in Cambodia and inspiration from Luxcity.com.