2022-06-22
Top 10 shops with the best coffee in Phnom Penh [2023]
The taste and enjoyment of coffee in different countries have changed a lot over time. People usually want to go to coffee shops on the weekends. Since there are many locations, the coffee shop doesn't have to be fancy, but the coffee must be good. From a cafe, you can see all four seasons: in the sun on a hot summer day, in the cold on a cold winter day, and even in space. Many people also enjoy calling themselves a cup of black coffee and enjoying the "slow" taste of time. So, what makes coffee what it is, and how has Phnom Penh coffee changed over the past few years? Let's use Luxcity to find out.
Learn more: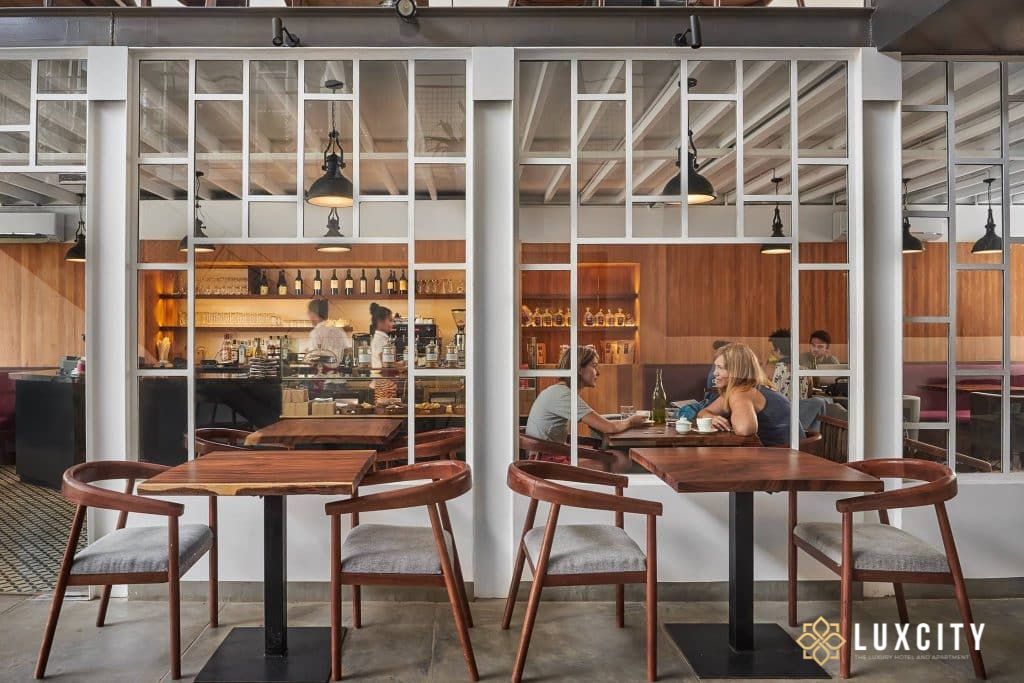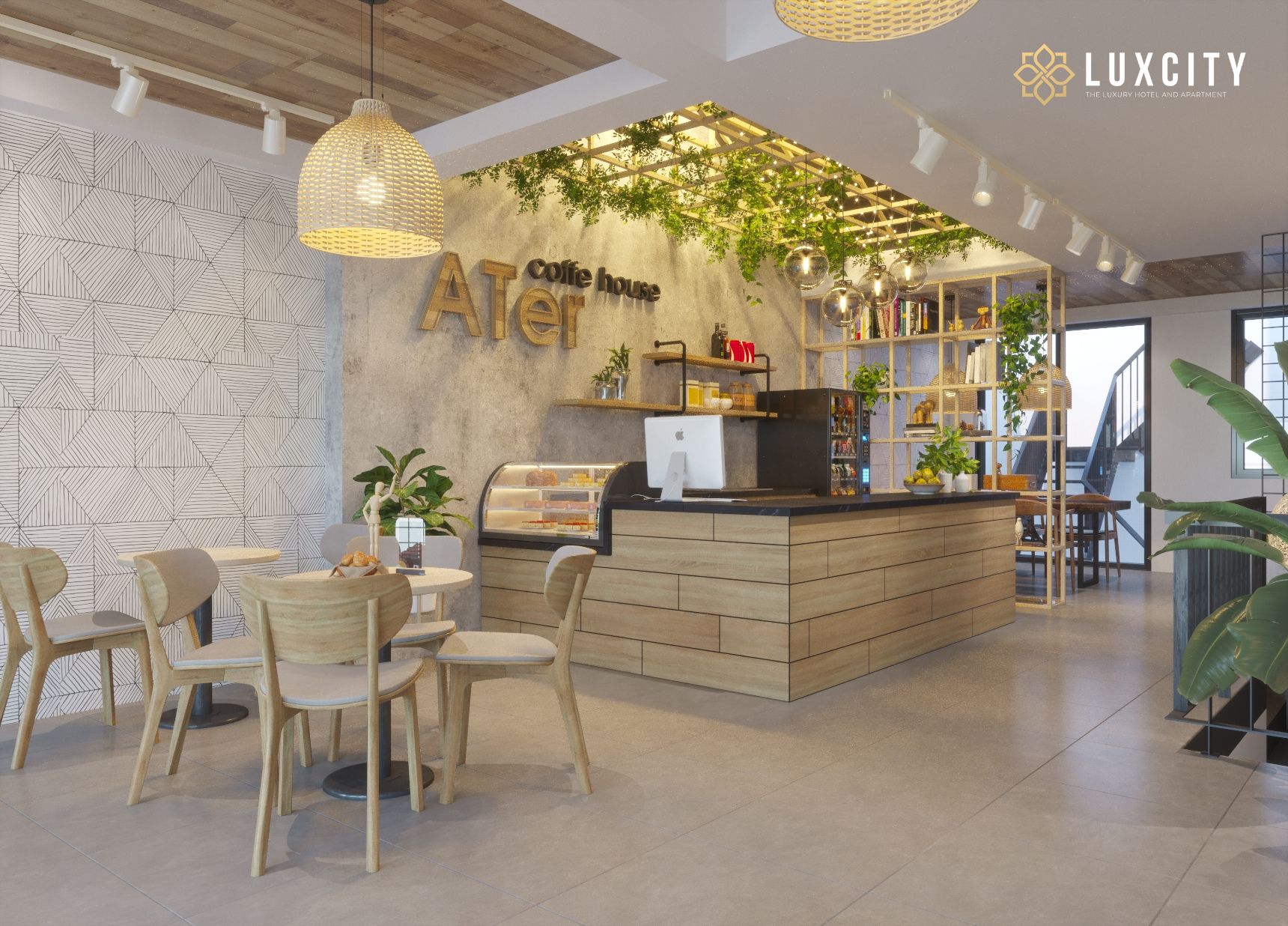 Features of Phnom Penh cafe design
The architectural design of Phnom Penh cafe is simple and fast
Architecture is the frame for Phnom Penh cafe, creating an appropriate space to arrange furniture towards simplicity and sophistication. The characteristics of modern architecture in general and cafe architecture, in particular, are always characterized by the layout of blocks in space, customizing according to the type of floor plan that does not attach too much importance to symmetry.
With Phnom Penh cafes built from bare land with a length and width that are not square, it is possible to choose asymmetrical architecture to suit the construction conditions. Modern cafe architecture is a new step in construction and design is the result of applying modern technology and science to save costs and bring the most comfortable space for users.
Currently, there are 2 main architectural styles chosen by many investors: reinforced concrete (in the traditional style) and steel frame houses. Each of these types of architecture will bring many different advantages and disadvantages for investors. A steel frame cafe will save a lot of design and construction time, easily expand the work, and have high reusability. The disadvantage of any type of architecture with investment costs is only suitable for investors with large investment capital and not much time.
The interior design of Phnom Penh cafe emphasizes functionality and modernity
The interior design feature of Phnom Penh cafe in modern style is always choosing the optimum to ensure functionality to create a comfortable space for customers. The coffee-enjoying and dispensing areas will use bold geometry and neutral colors. In Phnom Penh cafe, there will be 3 main areas: dispensing, common service area, and toilet area. To simplify the process of the interior design of a cafe, you need to divide each area in the cafe, connecting those areas with materials and colors in a modern style.
Modern-style Phnom Penh cafe design
Experienced architects will choose a ratio of 7:3 to divide the area for the areas of Phnom Penh cafe. That means 70% of the space for the arrangement of tables and chairs to create a space to enjoy coffee. 30% area for dispensing and cleaning area. This is an appropriate ratio for cafes to enjoy, while takeaway cafes will be arranged with a larger area for preparation.
For example, when you set up a table and chair area for customers, you need to pay attention to the space and arrange tables and chairs suitable for crowded and empty places. Creating a comfortable path and having a beautiful view will leave the best impression on guests when they first come to the shop. You should take advantage of the window area, balcony, garden... for a nice view, suitable for enjoying coffee.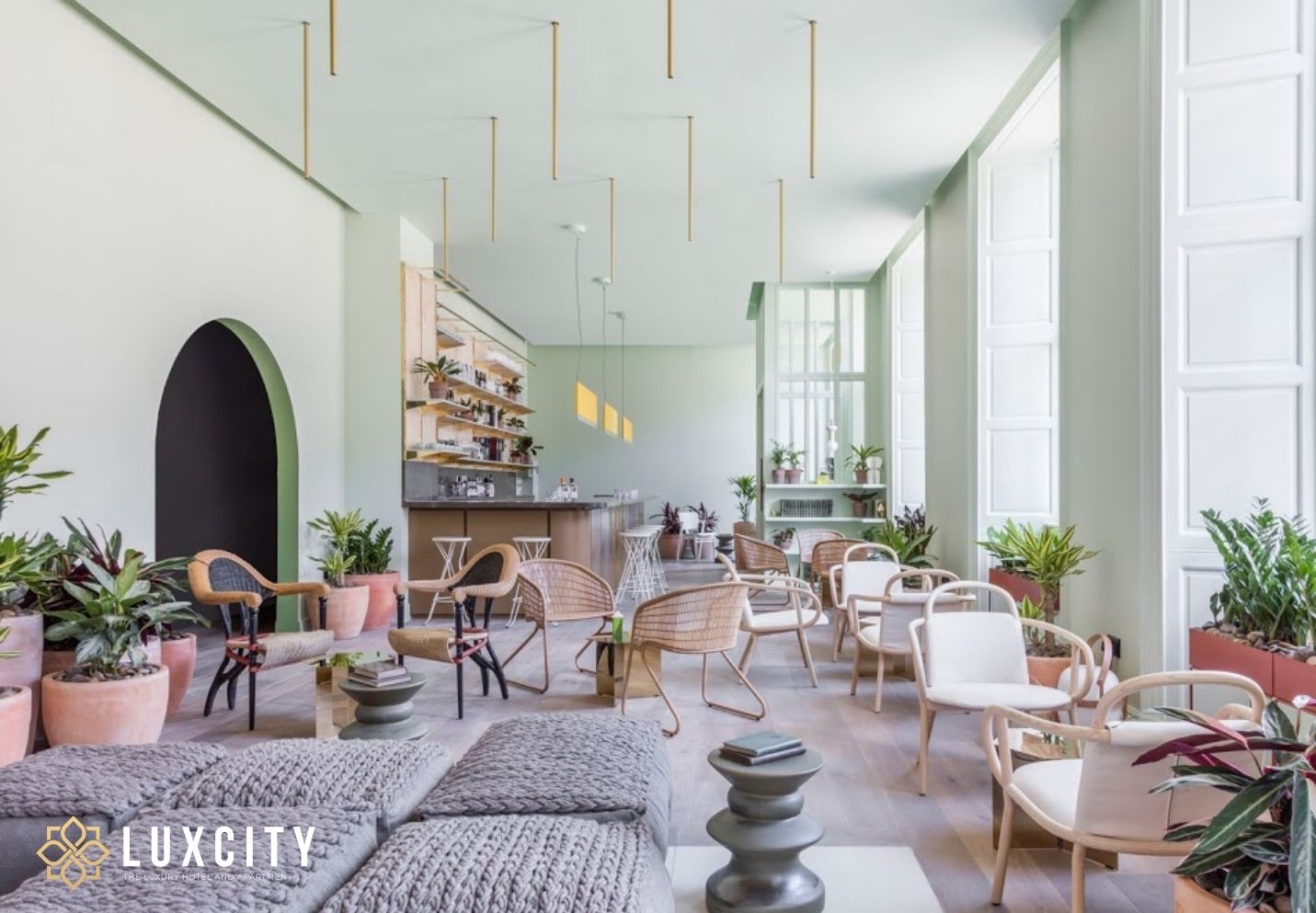 Use color to create an open space for the cafe
To create a harmonious and balanced space, you need to find and coordinate the appropriate colors for the cafe. When you choose a modern style, you should use neutral colors, white, beige, black... to easily set up an open space for the cafe. The way to use colors for the cafe must be unified from the architecture to the interior to create a synchronous space to create a comfortable feeling for customers when coming to the cafe. In addition, you need to consider the feng shui factor for the appropriate color scheme to bring luck to the investor during the operation of the Phnom Penh cafe.
Then, the work you need to do is apply the principle of the color scheme in the interior design of the cafe to create a balanced space. The principle used by many architects is 60-30-10. Simply put, you will spend 60% of the cafe area (ceiling, floor…) on the overall color, 30% of the area on the secondary color (usually for furniture used for the common service area ), and 10% of the area for outstanding colors to create accents for the space. The outstanding colors also help to decorate the cafe in a simple way without taking up space and not affecting the functionality of the remaining areas.
The light is used for the modern-style cafe
Lighting is an indispensable part of any construction, especially Phnom Penh cafes serving customers all day. The work you need to do is to combine natural light and artificial light to create the most comfortable space for customers. The first is natural light, in the architectural design process you can create many windows, and skylights, this also helps air circulate better, saving electricity consumption for artificial lights. There are many investors who choose glass wall architecture to help cool space and get maximum sunlight.
Next is artificial light depending on the type of lamp: recessed lights, pendant lights, chandeliers… and the type of light for each area in the cafe: area, overall, point lighting. This requires you to skillfully combine them to create a space with high aesthetics that is still suitable for the activities of employees and customers.
What makes the best cup of Phnom Penh coffee?
The sweetness in Phnom Penh coffee
In the composition of a whole coffee bean, sugar can make up from 6 to 9% of the weight of the bean. Therefore, when enjoying pure coffee, you will immediately feel the sweetness spreading on the tip of your tongue. To be able to feel the sweetness most clearly, you can try drinking coffee made with pour-over such as Aeropress, Melita, or Chemex...
To keep the pure sweetness of Phnom Penh coffee, producers need to be very careful in harvesting coffee and properly processing it.
Bitter taste in coffee
The bitter taste is probably the strongest impression many people have when it comes to Phnom Penh coffee. But do you know where the bitter taste comes from? The bitter taste in pure coffee is caused by the caffeine content available in the coffee beans (and the 10% effect of Trigonelline).
Sour taste in coffee
You can hardly appreciate the sour taste in Phnom Penh coffee if you are not a professional barista or someone knowledgeable about coffee. Each type of coffee has a different sour taste. However, there are pleasant sour flavors that are often mentioned such as: the sour taste of oranges, lemons, and blueberries... but they all have a very sweet aftertaste. In addition, Arabica coffee beans have more acidity than Robusta because Arabica contains more Acidity content.
Strong taste in coffee
The rich taste is the blend of Phnom Penh coffee when brewing. But it's not that more diluted coffee won't taste as good. Delicious or not depends on the preferences of each person and also depends on the preparation method and the type of nut used. Coffee shops around the world always rate coffee beans with a sour taste (Acidity) and aroma (Flavor) rather than beans with a strong, bitter taste.
Aroma is coffee
The aroma of Phnom Penh coffee is now very rich, with more than 800 flavors of only Arabica beans. The aroma of coffee will be divided into different stages as follows:
Right after roasting and grinding coffee beans
When preparing, the aroma of coffee solution will appear
Aftertaste of coffee after enjoying.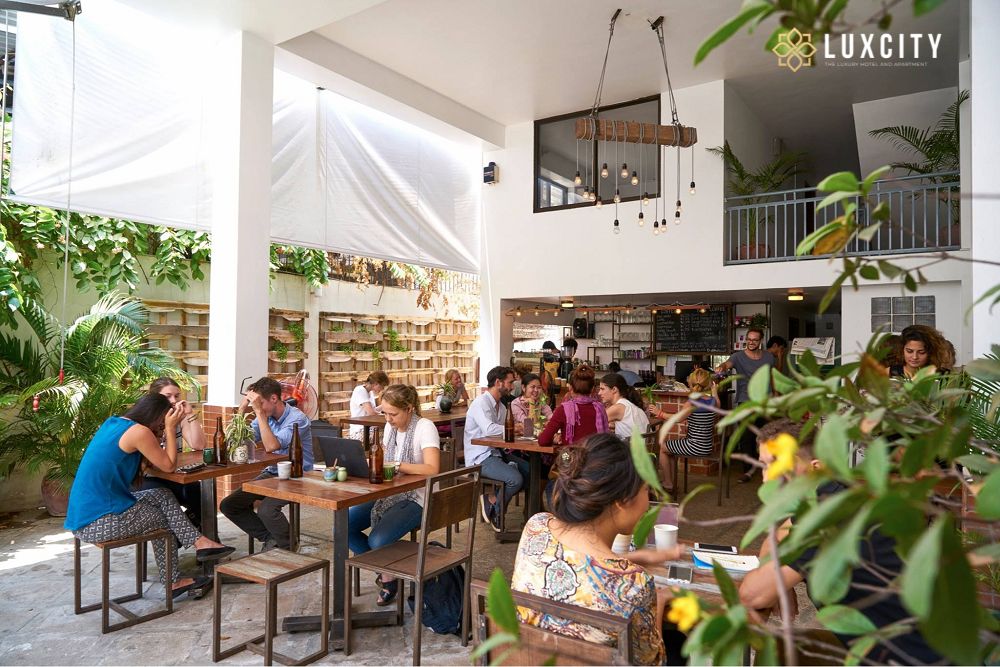 How to enjoy the best Phnom Penh Coffee
Each person will have a different style of enjoying coffee and each person will also find their definition when enjoying coffee. Some people like traditional Phnom Penh coffee with a rich taste, while others are passionate about pure unmixed coffee. Today, there are even people who consider enjoying coffee an art, for them enjoying a cup of coffee is not simply drinking coffee but it has been raised to a higher level.
Enjoying coffee with each person brings a very unique feature, some people like this type of coffee, and some people are addicted to the scent of that coffee. But if you have the opportunity, sip a cup of Phnom Penh coffee and try to feel if the cup of coffee you drink has both flavor and taste.
Top 10 shops with the best coffee in Phnom Penh
Feel Good II
If a morning caffeine boost is an essential start to your day, then head to Feel Good II. Renowned for their Fairtrade organic beans, hand-selected from across the region, top-notch baristas at Feel Good serve up the best coffees in town. It also has a menu to give you a full breakfast, with French toast and bacon, bowls of fresh fruit, muesli, and other tempting options.
My Friends' Cafe & Bakery
In addition to serving a variety of baked goods and pastries every morning - My Friends also serves a range of wonderful meals such as butter chicken and chips, salads, and fish. In particular, the restaurant also has a menu for coffee and smoothies. It also specializes in gluten-free products. You can have breakfast and drink a cup of coffee here and then start the work you want to do.
Relax Cafe
This spacious cafe not only offers coffee but also serves a wide range of beers. The breakfast buffet is an inexpensive and filling way to start the day, with unlimited dishes priced at $2.50. The lunch buffet is $3 and the soup buffet is $6.80.
Story Coffee Roasters
If you want to start your daylight, bright and laid-back, then Story Coffee Roasters - offering a huge range of coffees, smoothies, iced lattes, and fruit teas, as well as meals - is a great place to go. play with friends. In this space, you can sit down to do your work, check your email, or spend the whole working day in front of your laptop.
Starbucks AEON Mall
Tonle Bassac is Phnom Penh's first high-end shopping and entertainment center, AEON Mall, and there are plenty of coffee shops to choose from inside. Starbucks - the most famous coffee brand in the world will certainly not be missed in this article - with an international coffee chain that launched in Cambodia at the end of 2016. Its location AEON Mall has seating. indoors and outdoors, and serves the usual selection of coffees and light bites.
Costa Coffee AEON Mall
Another international coffee giant also in Phnom Penh's first major shopping mall is Costa Coffee, with a spacious store on the ground floor of the mall. They serve a wide range of mixes, shakes, smoothies, and fresh fruit juices as well as light bites. Come here, you can shop and enjoy the typical coffee flavors, but don't forget to capture them with beautiful pictures.
TINI
TINI can be an intimate space with a few tables and chairs inside and a small terrace at the front. It also sells some quirky local art collections, displayed on its walls.
Java Creative Cafe
Building on the success of Independence Monument and King's cafes, with a creative space for young Cambodian artists, Java recently opened Java Creative Cafe in Toul Tom Poung. The spacious two-story cafe is both an art gallery and a 54-seat black box theater, with performances hosted by the resident dance company, Prumsodun Ok and Natyarasa.
Jars of Clay
Jars of Clay has been in Toul Tom Poung for a while and is a Cambodian-run cafe that operates as a social enterprise. It employs many disadvantaged and at-risk young Cambodian women and prides itself on Khmer hospitality. It serves a wide range of western dishes, cakes, teas, coffees, and healthy fresh juices.
Joma Bakery Cafe TTP
Joma Bakery Cafe is a popular spot near the Russian Market, where air-conditioned respite from the humidity of the capital. It serves a wide range of breakfast items, including French toast with mango, breakfast burrito, eggs, bacon, and toast, as well as baked goods, salads, wraps, and sandwiches.
Backyard Cafe
This cafe is the reason for raw foods, vegetarian, and vegan options in all the cafes across town. The coffee is brewed from organic beans from Lao and Vietnam. Their cafe is the home to healthy and in-house products, made fresh each day. They also offer cold-pressed juices. Backyard's sister cafe, Vibe is just next door, which is also worth checking out.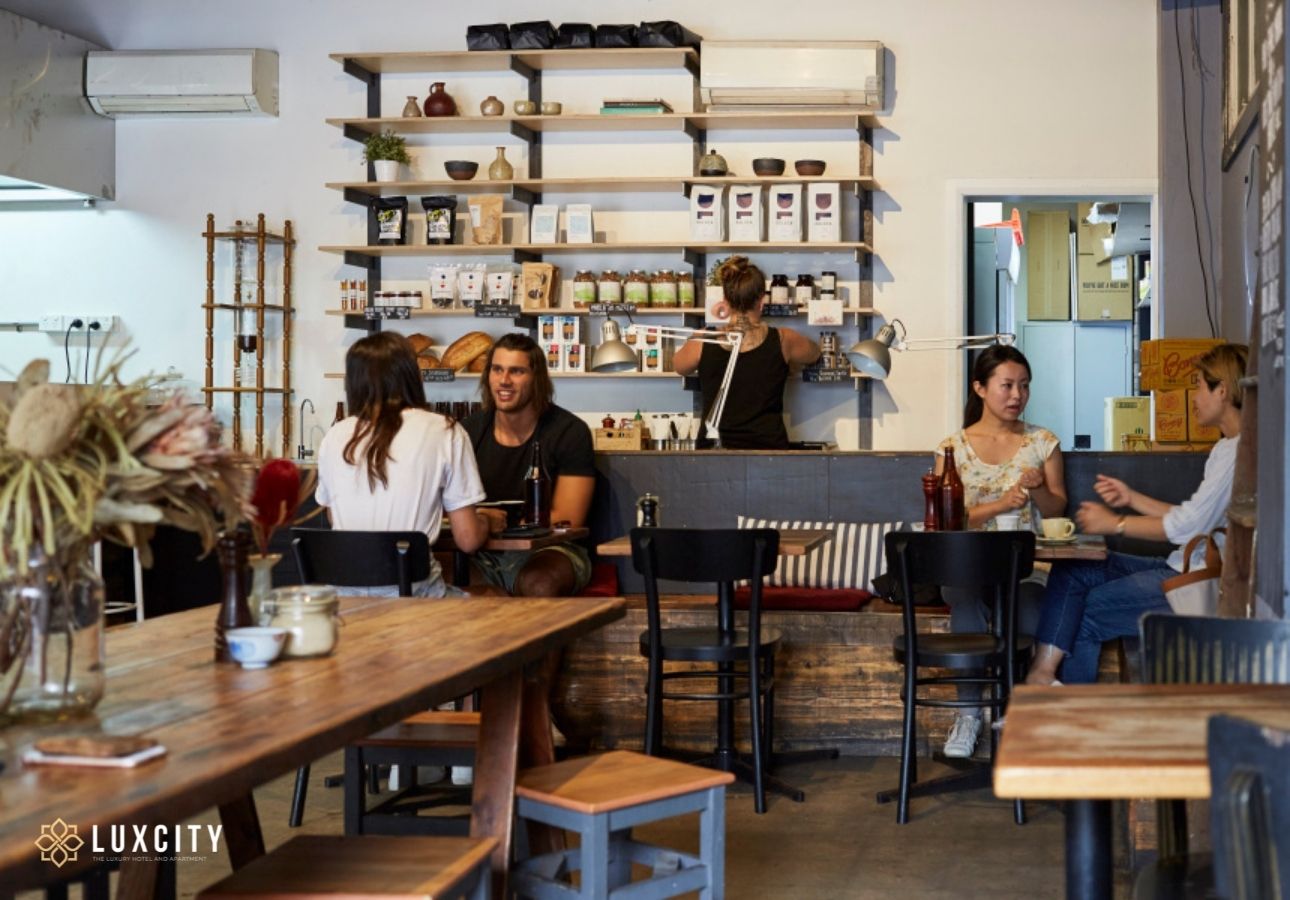 A hobby for many people is going to a cafe on the weekend. If you know how to choose the right cafe for you, you can have a great time. If not, you can look at the list of cafes in Phnom Penh we just gave you. We hope it will be very helpful. We also hope that you can spend a happy weekend with friends and family at a cafe you know well. If you have more questions, please get in touch with us.