2022-11-08
The best hotel in Cambodian mountains near me guarantee to get you be one with nature
Cambodia, the land of temples and pagodas, is riddled with mysteries that captivate countless tourists. However, these are insufficient to describe the pristine beauty of numerous locations, particularly the supernatural and untouched landscape here. As Cambodia has a low-lying central alluvial plain surrounded by uplands and low mountains, why not spice up your itinerary by choosing a mountain hotel? That's where you'll get a glimpse of everyday life in Cambodia's heart and up-close encounters with exotic flora and fauna - nature in all its glorious beauty. In this article, we will walk you through some must-visit mountainous areas in Cambodia, as well as the best hotels in the mountains while visiting these attractions. Let's dive in!
Read more: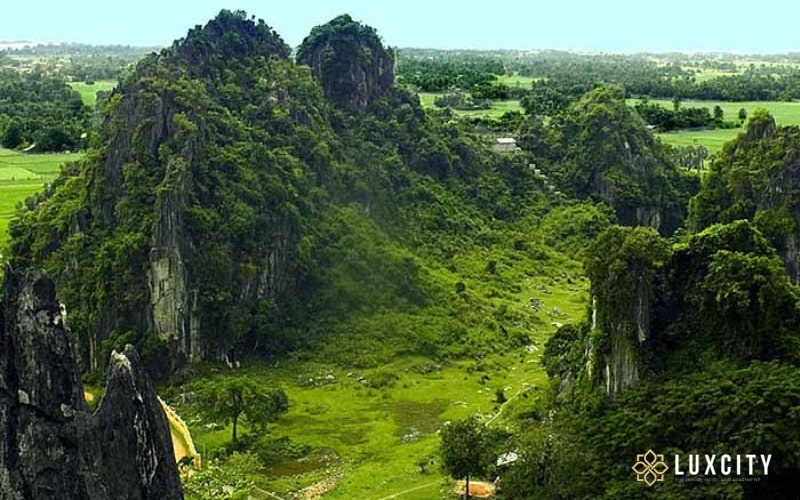 Cardamom Mountain - One of the Most Stunning Mountains in Cambodia You Must Visit at Least Once in Your Lifetime
The Cardamom Mountains, a range of mountains and lush rainforests located between Thailand and Cambodia, are home to biodiverse landscapes, wildlife, and several ethnic minority groups. The area covers around 4.4 million hectares and cuts through the Koh Kong and Pursat provinces in the country's southwest, making it Southeast Asia's largest rainforest.
The Cardamom Mountain region's hills, marshes, mangroves, and plains are home to a diverse range of wildlife, including the Asian elephant, clouded leopard, pangolin, sun bear, Siamese crocodile, gibbon, and numerous insects and reptiles. Spotting a leopard or elephant and the kouprey, a rare species of wild ox, is extremely rare. Unfortunately, seeing much wildlife in the park is often difficult because much of it was killed during the war and continues to be poached and harmed by loggers. However, you have a good chance of seeing pileated gibbons swinging through the trees because the mountains have an estimated population of around 20,000.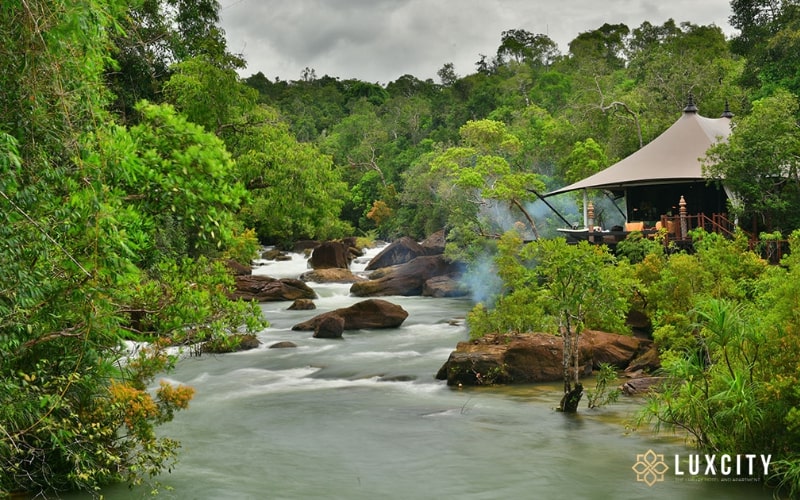 Where to stay?
The Cardamom Mountains offer various accommodation options to suit every type of traveller, from luxury to homestay experiences.
The Cardamom Tented Camp
The Cardamom Tented Camp, located in Botum Sakor National Park, Cambodia's largest, aims to reduce the human footprint on the surrounding environment and promote sustainable tourism. Cruise down the river for about 45 minutes into the jungle to reach the camp and its safari-style glamping tents set in a serene, peaceful setting with only the sounds of nature around you. A portion of the camp's revenue is used to fund forest rangers who protect the forest from poachers and loggers. The camp also gives back to the community. Their tagline, "Your stay keeps the forest standing," is very true.
Shinta Mani Wild
Shinta Mani Wild, one of Asia's most exclusive properties, is nestled along a flowing river and gushing waterfalls in the Cardamom Mountains. This luxury tented camp experience and conservation project offers first-rate experiences and opulent safari-style lodging unlike any other. A stay here is a memorable and one-of-a-kind adventure designed by world-renowned designer Bill Bensley. Furthermore, the Shinta Mani Foundation, in collaboration with the Wildlife Alliance, seeks to protect the 350-hectare river valley from poaching, mining, and logging while also spearheading community outreach programmes for the camp.
Canvas and Orchids
Canvas and Orchids (previously 4 Rivers) is one of the most unique and unusual properties we have come across, offering peace, privacy, and luxury far from the beaten path. It offers an unforgettable and magical escape with a passionately sustainable ethos, situated on the curve of a river in the little-explored Cardamom Mountains, close to the border between Cambodia and Thailand.
This remote resort's 12 safari-style villas are surrounded by unspoiled forests, rare orchids, and fragrant frangipani trees and are equipped with all mod cons - flat-screen televisions, Wi-Fi, en-suite bathrooms, and private sundecks. However, you will most likely spend the majority of your time exploring the mountains and their flora and fauna. Aside from the beautiful setting and one-of-a-kind accommodations, the resort has a library and a fantastic restaurant serving a mix of western and Asian cuisine, with river fish as the regional speciality.
Read more: https://luxcity.com/blog/restaurants-in-phnom-penh
Bokor Hill Station - Where You can Witness The Rise and Fall of French Colonial Rule in Cambodia
Like many other places in Asia, Bokor Hill Station rose to prominence as a summer retreat for colonial settlers seeking to escape the unaccustomed summer heat. In the case of Cambodia, it was the French who built a summer resort in the Damrel mountain range of southern Cambodia in the twentieth century. After the French established the first settlement atop the famous Bokor mountain, the resort was abandoned several times before becoming one of the country's most popular tourist attractions.
The surrounding national park is ideal for outdoor excursions, and several hiking trails lead up to the Popokvil Waterfalls, which are located several kilometres from Bokor lake. The waterfalls are best visited during the monsoon season when mists of clouds swirl around the top of the falls. You can also rent bicycles from here if you want to cycle around the colonial resort's park.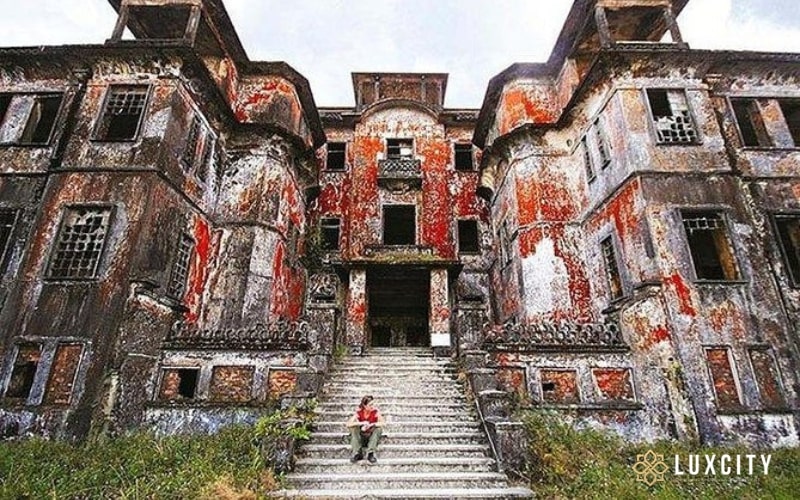 Where to stay?
Thansur Bokor Highlands Resort
The Thansur Bokor Highlands Resort, located approximately one kilometre from the Catholic Church, is the only operational hotel at the Bokor Hill Station. The hotel has a casino and a couple of restaurants, and typical nightly rates range between INR 3000 and INR 4000. If you are interested in hiking here and there, the trails typically last 2 to 8 hours, and Bokor Hill Station tours can be arranged from the Thansur Bokor Highlands Resort's recreation counter for as little as INR 600 per person.
Phnom Kulen National Park
Phnom Kulen, like the other Cambodian Cultural World Heritage sites Angkor, Preah Vihear, and Sambor Prei Kuk, is located in Northwest Cambodia. The mountain range is also the source of the Siem Reap River and the other major rivers of the Angkor region (Puok and Roluos). It plays an important role in the local aquifer and surface water, draining most of the plateau before reaching Angkor, nourishing its entire hydraulic system, the major reservoir (baray), and the temples or city moats via a network of channels, and eventually draining into the vast Tonle Sap Lake.
Here, the top section of the waterfall is quite flat, making it ideal for families or small children who want to cool off in the refreshingly cool water. It's also close to the picnic area, making it an ideal spot for an afternoon spent ducking in and out of the water. A small waterfall is also located further down, which is ideal for inexperienced swimmers and children.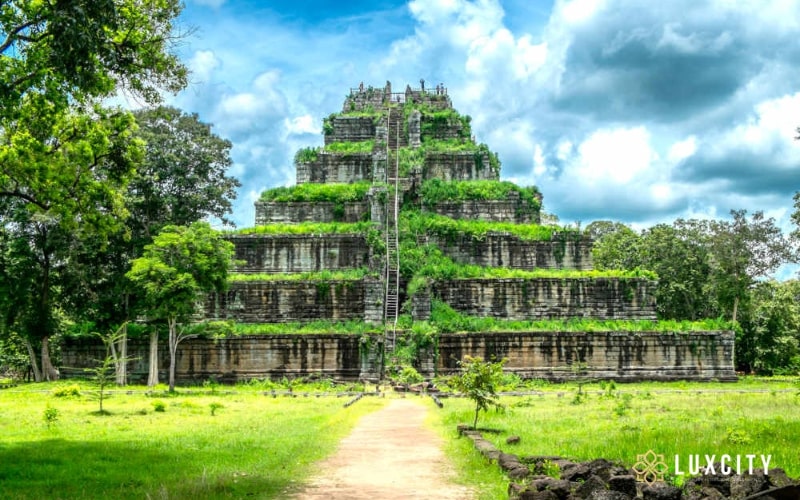 Where to stay?
Bong Thom Forest Lodge
Located in Siem Reap and with Angkor Wat reachable within 18 km, Bong Thom Forest Lodge provides an express check-in and check-out, non-smoking rooms, an outdoor swimming pool, free WiFi, and a garden. Featuring a 24-hour front desk, this property also has a restaurant and a children's playground. The accommodation features room service, a concierge service, and ticket service for guests. The rooms at the hotel are equipped with a seating area. The private bathroom is equipped with a bath, a hairdryer, and free toiletries. Guest rooms at Bong Thom Forest Lodge include air conditioning and a desk. Bong Thom Forest Lodge offers a terrace. The area is popular for cycling, and bike hire and car hire are available at the hotel.
Templation Hotel
Located in Siem Reap, Templation Hotel is in the business district. Angkor National Museum and Smile Angkor Grand Theater are cultural highlights, and some of the area's landmarks include Angkor Wat and Charles de Gaulle Road. Cambodian Cultural Village and Water Park Khnar Siem Reap are also worth visiting. A roundtrip airport shuttle, a poolside bar, and a terrace are just a few of the amenities provided at Templation Hotel. Treat yourself to spa services, such as a body scrub, a facial, or a body wrap. The onsite restaurant, Templation, features Cambodian cuisine. In addition to a garden and a library, guests can connect to free in-room WiFi.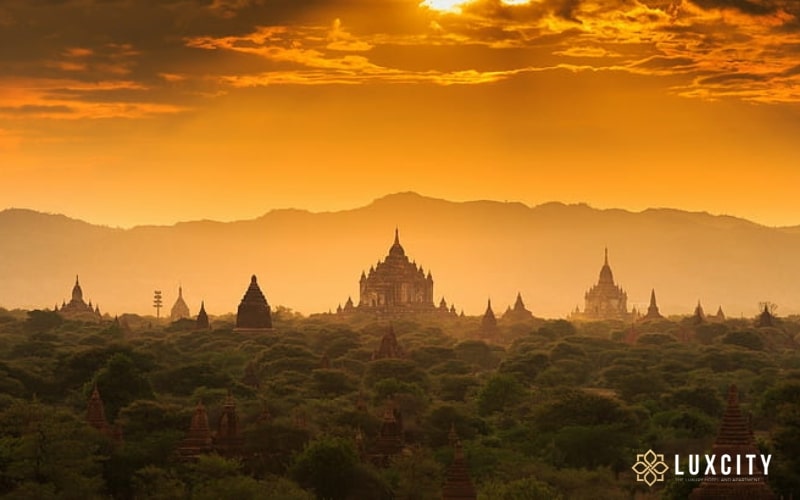 With so many hidden gems, secret getaways, and undiscovered natural wonders of the wide range of mountains, Cambodia will definitely captivate you. Travel off the beaten path in Cambodia to discover this beautiful country from another angle among misty mountains, rolling valleys, rice terraces, and emerald bays. We hope that the handpicked list above will meet your needs and provide you with travel inspiration.
If you want to feel young and alive again, Cambodia Mountain is the place to be! Contact us today for the most up-to-date information and tips on planning your trip to undiscovered Cambodia destinations: https://luxcity.com/blog.