2022-11-14
Cambodian adventure resorts: Where your trip thrills in comfort
Beyond the temples and monuments, Cambodia is also known as the land of serene beaches, secluded islands, and a gateway to supernatural landscapes. A visit to this capital city will amp up the excitement for your trip. If you're an outdoor adventurer looking for exciting activities but don't want to rough it by camping, there are several adventure resorts in Cambodia that offer an upscale stay while participating in various thrilling pursuits. Whether you want to jet off to a remote corner or stay a little closer to home, we bet that one of these locations will make for an especially unforgettable experience.
Read more:
What is an Adventure Resort?
Like any other resort, an adventure resort is a full-service lodging facility typically located in areas popular for relaxation or recreation, such as beaches, seashores, scenic or historic areas, massage, and spas. But what distinguishes an adventure resort is that it provides you with other outdoor activities such as local tours, hiking, biking, trekking, and adrenaline-pumping activities that both raise and lower heart rates in style.
This type of lodging is appropriate for adventurers, families, and couples who do not want to just relax on vacation together. They want to share life-changing experiences that will leave them with lasting memories. And whether you want to brave white-water rapids or take on challenging hikes before relaxing poolside, adventure resorts offer plenty of opportunities to have more thrilling moments while taking epic Instagram-worthy vacation photos.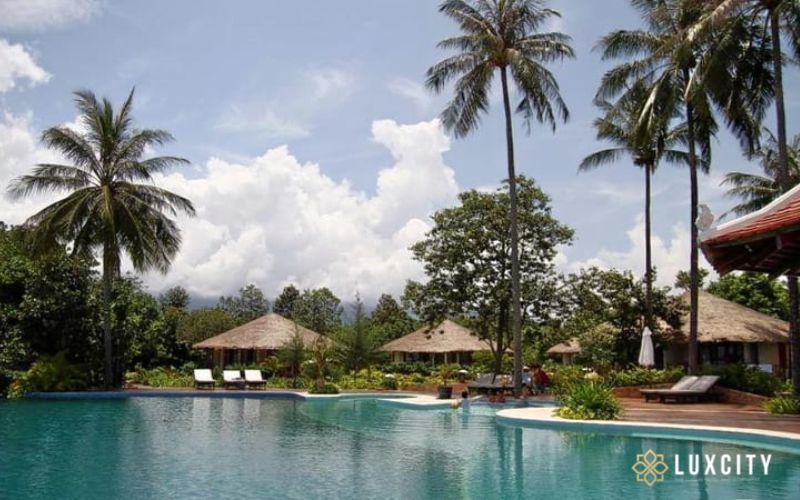 Relaxing Vs. Adventure Vacation - Adventure Resorts are the Best of Both Worlds
Many people take vacations for a variety of reasons. Some people want to get away from the monotony of everyday life and into a world where they can explore, have fun, and try new things that they would never be able to do at home. Others are looking for a way to unwind, get away from the stresses of life, and simply relax in the tranquillity of a Cambodian resort.
While everyone is free to choose their ideal vacation type, the overall best vacation option is typically a mix of deep relaxation and high adventure. Why is that?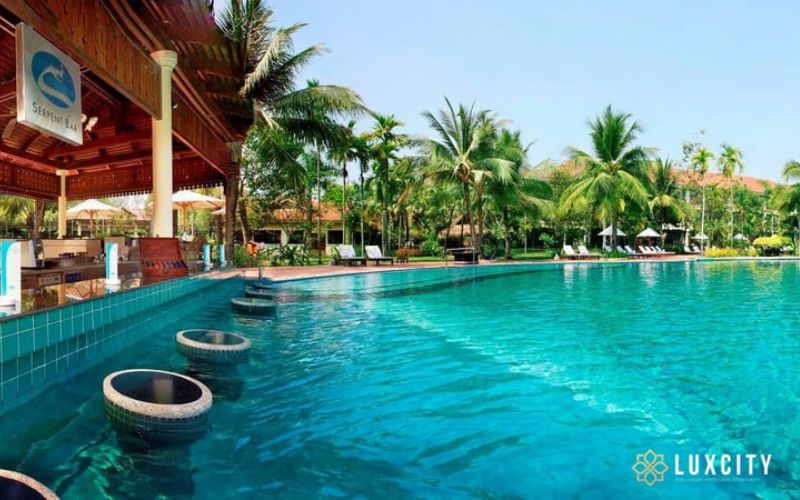 Consider this: you go to an all Inclusive resort in Koh Kong for two weeks and every day you do the same thing: you sit on the beach all day. You will undoubtedly be relaxed and refreshed by the end of the two weeks, but you may feel that you could have done more to fully enjoy your stay. This is something that can happen during a totally relaxing vacation.
Consider another example. You take a one-week vacation in Cambodian rural areas and plan ten different activities for the duration of your stay. You get through your list during your vacation and have a lot of adventures. However, by the end of your vacation, you are so exhausted that you feel the need for another.
Yes, both options can be excellent, but if they are not balanced, they can be detrimental. This is why a vacation that combines adventure, exploration, relaxation, and rest is ideal. And an adventure resort will offer a wonderful opportunity to unwind with some enjoyable activities that provide all of the benefits without any of the drawbacks.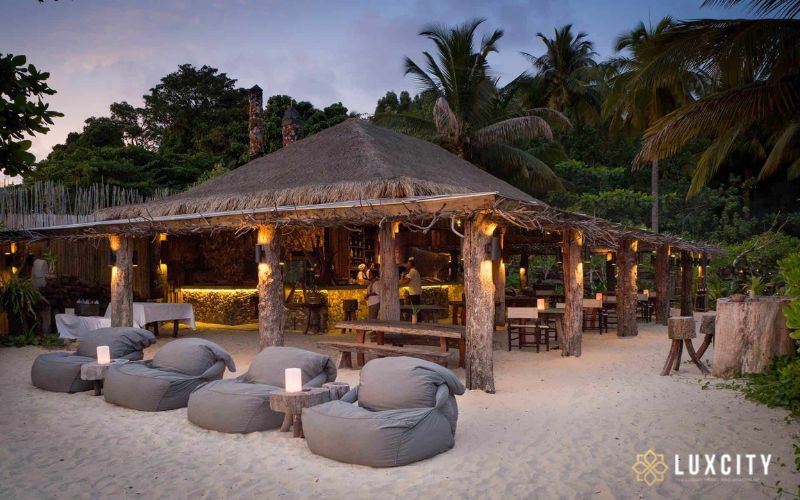 Best Adventure Resorts in Cambodia to Get into the Thrill While Staying in Comfort
Knai Bang Chatt Resort Kep
One of the most relaxing beachfront resorts in Cambodia, Knai Bang Chatt, offers great services to international and local tourists coming here. One of the major highlights of this resort is that it offers private balconies in all rooms, from where you can enjoy a scintillating view of the Chhak Kep Bay with a relaxing drink in your hands and with your loved one for your company. There are lots of spacious rooms in this resort and all of them have excellent bay views. Here you can enjoy private experiences like excursions, private dining, cooking classes, sailing courses, windsurfing, kayaking, mountain bikes, rental bicycles, indoor and outdoor games, spas, massages, royal treatment, and other excellent tours.
Malibu Estates Bungalows
Located in the midst of greenery and overlooking the sea, Malibu Estates Bungalows is one of the upscale restaurants in Cambodia. Rooms with garden views and pool views excite tourists beyond their imagination at Malibu Estates. The exteriors and interiors of Malibu Estates Bungalows are done with so much of perfection that they represent the rich culture and tradition of Khmer architecture perfectly. Apart from sightseeing and relaxing at the beachfront resort, guests can take up exciting tours nearby or get rejuvenated at the resort's spa. Activities & Amenities include gyms, Spas, mini-bars in all rooms, a saltwater swimming pool, a separate pool for kids, babysitting, free wi-fi, pet compatibility, a pool bar, horse rides, kids' play area, safety lockers, and more.
Read more: Top 10 best restaurants in Phnom Penh [For Family and Couples]
Nataya Resort
One of the best places for guests looking for tranquillity is the Nataya Resort in Cambodia. With a perfect blend of modern and traditional features and architectural designs, this beautiful beach resort has 8 beachfront, 1 bungalow, 9 deluxe bungalows, and 3 pavilion suite-type accommodations. With a canopy of greenery all over, these thatched-hut-style accommodations provide a cool ambiance to guests coming to this resort. Come and enjoy the traditional Khmer-style hospitality at the Nataya Roundhouse Coral Bay Resort when you come to Cambodia. The resort offers an indoor swimming pool, gymnasium, sun lounges, inbuilt bars, day tours to nearby tourist attractions, outdoor showers, cooking classes, rental cycles, nature walks, fishing tours, petting farms, massage, and spas.
Amansara
Situated in a nice tranquil environment, Amansara was once the resort where the Royals stayed. This explains about the ambiance and the features of this majestic resort. Set up in 1962, this resort had French style of architecture and was the place where the King of Sihanouk stayed. However, after the political revival during which time Amansara served as military base, the resort has undergone a complete makeover. Today, it has become an architectural marvel containing 24 suites. The resort offers experienced remarks who take guests on a tour of the 1000-year-old ruins of the Angkor Archaeological Park, tours to the floating village and Mekong River, spiritual tours, nature walks, helicopter rides, relaxing scrubs and massages, and more.
Memoria Palace and Resort Cambodia
Memoria Palace and Resort Cambodia is a cozy hideaway with an inviting appeal. The resort and vast incredible natural wonder draw you to relax and discover the untouched beauty of the surrounding Cardamom Mountains and foothills. Your senses perk with the magnificent views across the countryside, fresh clean air, beautiful scents of nature, idyllic farmlands, the invigorating breeze off the mountains, and unforgettable sunrises and sunsets. Pailin is a great place for outdoor activities. Travellers are to go more remote, more adventurous, and off the beaten track. Memoria Palace is proud to offer you exclusive treks. They are running by nature freaks ready to go in either the wet or the dry season, leading the trek as professionals. Their guide(s) have a 'band of brotherhood' with the local people who always accompany our treks and offer a one, two, three, or four days trek through the Cardamom mountains.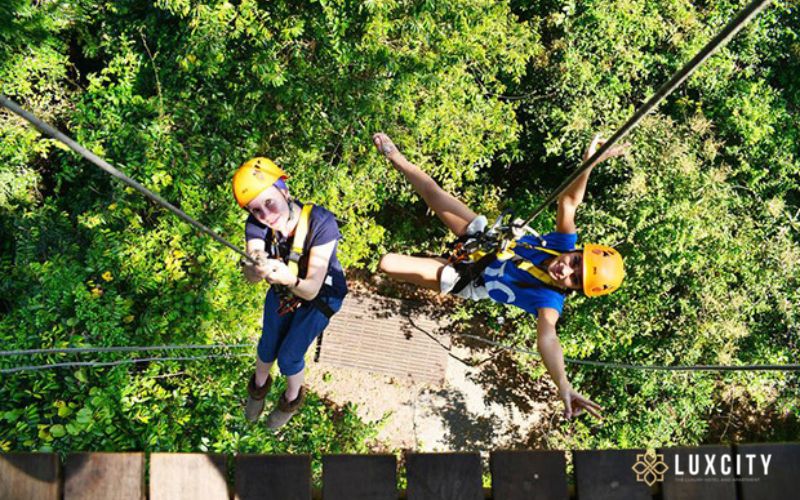 The ideal adventure resort will put you right in the middle of some of the world's most breathtaking landscapes, offering a variety of outdoor activities, often with guided expertise, gear, and everything you need to have an unforgettable adventure. The resorts listed below offer thrill-seeking guests everything from biking to local tours while still providing a warm meal and a soft bed at the end of the day. Staying in an adventure resort allows you to learn about Cambodian culture while exploring the ancient wonders of Angkor in Siem Reap and learning about the past and vibrant present in Phnom Penh. Tell us about yourself and the types of experiences that interest you, and Luxcity will get to work planning your ideal vacation. Find out more here.